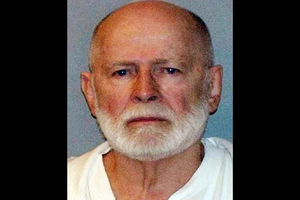 James "Whitey" Bulger, the Boston mobster, strangled his accomplice's stepdaughter before going upstairs for a post-murder nap, a court heard.
Several members of the jury looked shaken as Stephen "The Rifleman" Flemmi, who is serving life sentences for 10 murders, incriminated Bulger in a series of gruesome killings.
Particularly harrowing was Flemmi's account of the death of Deborah Hussey, his stepdaughter, who he said worked as a prostitute to pay for her drug habit. He said he drove Hussey, 26, to a house where Bulger strangled her.
Flemmi then pulled the teeth from her skull with pliers and buried her beneath a dirt floor cellar next to two other alleged Bulger victims.
He agreed with Bulger that Hussey had to die because she had become a "problem" for their Winter Hill gang. In a chilling effort to add an element of humanity to his actions, he said that he made sure she did not know her fate. "I took her shopping. She wasn't aware she was going to be killed." Flemmi added that the two men then followed their normal post-killing routine: Bulger went upstairs for a nap, while he buried the body.
"Maybe he was physically exhausted from it, I don't know. Maybe he would get high on it."
Under cross-examination by Hank Brennan, defending, Flemmi rejected evidence in previous trials that he, and not Bulger, killed Hussey. He insisted that he had not sexually abused her, but acknowledged that he had oral sex with her when she was an adult. "A girl who called you 'daddy' consented to sex with you?" Brennan asked. Flemmi accused Bulger of a relationship with a 16-year-old girl. "You want to talk about paedophilia - right over there at that table," he said, indicating Bulger.
The trial continues.