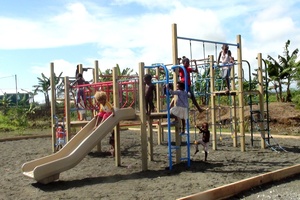 Prime Minister John Key has gifted a children's playground to the people of Solomon Islands to mark the work of the Regional Assistance Mission there.
Mr Key praised the mission (RAMSI) on his visit to Honiara today, saying they had provided 10 years of security and stability.
"This gift appropriately looks towards the future of Solomon Islands - the younger generation who will lead this nation in the years to come," Mr Key said.
He is visiting the Solomons with other Pacific Island leaders to attend RAMSI anniversary events, and to mark its transition from a military and police taskforce to a police-only mission.
"This transition is a clear indication of the progress made. New Zealand is proud to have been one of 15 countries working alongside the Solomon Islands Government in a coordinated, Pacific-wide response.
"New Zealand has been a significant contributor to RAMSI. Our Police, New Zealand Defence Force, Ministry of Foreign Affairs and Trade, and Inland Revenue and other personnel have made a lasting contribution to Solomon Islands," Mr Key said.
RAMSI was formed in 2003 at the request of Solomon Islands government after a period of civil disorder. Significant progress has been made in the past 10 years.
"The military component of the combined taskforce is withdrawing. A participating police force will stay to aid the Solomon Islands Government in the training and capacity building of the Royal Solomon Islands Police Force, who will continue to maintain law and order."
Mr Key and the New Zealand delegation return to New Zealand this evening, ahead of the Prime Minister's departure tomorrow morning to join a group of 30 New Zealand veterans in the Republic of Korea for the commemorations marking the 60th Anniversary of the Korean War Armistice.
- APNZ