The most powerful imageries of human experiences are on display in Auckland as part of the World Press Photo Exhibition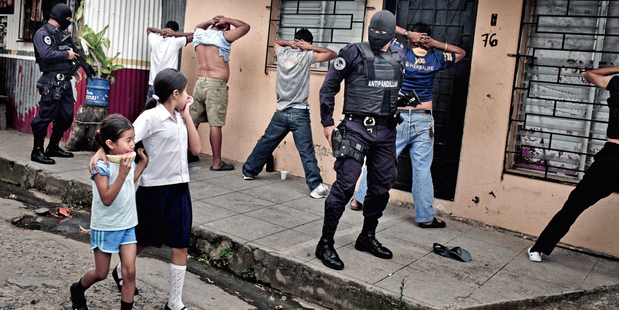 Two girls walk down a rutted concrete road. The oldest of the pair is dressed in a school uniform - white blouse, navy skirt - her socks pulled up and her black shoes clean. Beside her, a smaller girl munches on a piece of watermelon. She appears to be about 5 or 6 and the taller girl is gripping her far shoulder protectively.
On the raised pavement to their left is a man wearing a black uniform, flak jacket, balaclava and boots. Only his eyes and hands are visible. The taller child stares at him; he may be meeting her gaze but it's hard to tell. Behind him are four other men, legs akimbo, hands on heads, facing a wall. They're guarded by an armed man, also in black. It's another day on the streets of San Salvador.

Chilean photographer Tomas Munita's poignant work is one of the standouts of this year's World Press Photo exhibition, currently showing in Auckland. The image is part of a series commissioned by the New York Times last year.
The works document life on the violent streets of El Salvador. This photo was taken during an anti-gang raid in the capital San Salvador. Gangs control the streets and the murder rate is high. At the centre of the violence are two opposing gangs - Mara Salvatrucha and rivals Barrio 18.
Their bloody battle saw the nation's homicide rate soar to 69 out of 100,000 people in 2011, and forced the Government to orchestrate a truce in March last year.
Munita's photographs were taken in August last year, in the middle of the truce. During this period, murders dropped to an average of five a day. But according to Reuters, murders have been on the increase since May this year - the most recent reports this month had them up to 16 a day.

Tomas Munita is well used to documenting horror and hardship. His photographic work has taken him from Kabul to Kandahar, Varanasi to El Salvador.
This San Salvador series won a 3rd place in the stories section of the World Press Photo competition, a competition which, according to jury chair Santiago Lyon, sums up "the best and most powerful imagery of the human experience".
Given the resurgence of violence over the past months, this image of innocence in the face of violence is all the more powerful.

• World Press Photo Exhibition will run until July 28, Level 6, Smith & Caughey's, 253 - 261Queen St. Tickets are $10 for adults and $5 for students.