Obama says US has to understand African Americans' pain at verdict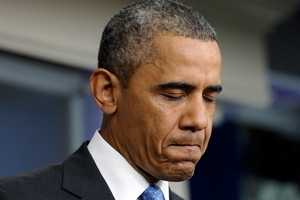 Barack Obama, the nation's first African American President, made a surprise and emotional appearance yesterday to talk about the slaying of black teenager Trayvon Martin and the trial that found his killer not guilty of murder.
He said Americans needed to do some "soul-searching" about the killing and the country's difficult racial history.
Obama spoke emotionally about the subconscious racial profiling that blacks, especially young black men, continue to suffer, telling reporters and cable television networks that carried the speech live that he could have been Trayvon Martin 35 years ago. He spoke of his experience earlier in life of being followed by department store security agents when shopping, and of hearing drivers click door locks as they drove by him on the street.
"When you think about why, in the African American community at least, there's a lot of pain around what happened here, I think it's important to recognise that the African American community is looking at this issue through a set of experiences and a history that doesn't go away," the President said.
Obama waited six days before talking about the verdict. George Zimmerman was found not guilty on charges of second degree murder and manslaughter for shooting and killing Martin in a condominium complex in Sanford, Florida.
Zimmerman, who was armed with a handgun, was part of the neighbourhood watch organisation that patrolled the development against potential criminals.
Martin was staying in the complex and had gone out on a rainy evening last year to buy snacks at a local store. He was spotted by Zimmerman as he walked back to the residence. He was wearing a sweatshirt with the hood pulled up against the weather.
Zimmerman called the police to report that he thought Martin was acting suspiciously. The dispatcher told Zimmerman not to follow Martin because police were on the way. Zimmerman ignored that request, followed Martin and a scuffle or fight apparently took place during which Zimmerman shot the teen.
Police initially did not charge Zimmerman because he said he was acting in self-defence. Florida's stand-your-ground law, which is on the books in some other states, allows the use of deadly force if a person feels their life is in danger.
Obama said the country needed to re-examine such laws: "I'd just ask people to consider, if Trayvon Martin was of age and armed, could he have stood his ground on that sidewalk?"
Obama said it was important to put the angry reaction of many African Americans into context.
Protests were understandable, he said, adding that "some of that stuff is just going to have to work its way through as long as it remains nonviolent".
- AP