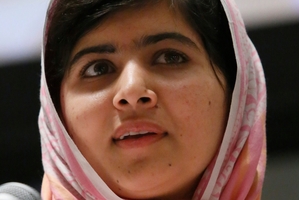 A senior figure in the Pakistan Taliban has written an extraordinary letter to the campaigning schoolgirl Malala Yousafzai setting out the reasons why she was shot - and coming close to expressing regret.
In the four-page document, Adnan Rasheed described his shock at hearing that the 15-year-old had been shot last year.
He claimed that he had wanted to warn her against criticising the Taliban because of his "brotherly" feelings towards someone from his own Yousafzai tribe. "When you were attacked it was shocking for me. I wished it would never happened and I had advised you before," he wrote.
Malala, who has spent the past nine months in Britain recovering from her injuries, was shot twice by masked gunmen who singled her out among her friends on a school bus in the town of Mingora in the Swat Valley. Since then she has become a symbol of the campaign to help more girls into school.
Last week, she addressed the United Nations in a speech that received global attention, where she declared: "One child, one teacher, one pen and one book can change the world.
Education is the only solution."
Commanders sent out a series of press releases after the shooting to justify why they had attacked a young girl as public opinion hardened against them.
In the letter, Rasheed insisted that Malala was not shot because of her campaign for education. "Taliban believe that you were intentionally writing against them and running a smearing campaign to malign their efforts to establish Islamic system in Swat and your writings were provocative," he wrote.
"You have said in your speech yesterday that pen is mightier than sword, so they attacked you for your sword not for your books or school."
Rasheed is one of Pakistan's most notorious terrorists. He was in the Pakistan Air Force before being imprisoned for a plot to kill General Pervez Musharraf, the former President, but escaped in a mass jailbreak last year.
Rasheed insisted that the Taliban did not oppose education, just an education system that would turn Pakistanis into slaves and had no room for Islam. He also asked whether Malala would have received as much attention if she had been hurt in a CIA drone strike.
"At the end I advise you to come back home, adopt the Islamic and Pashtun culture, join any female Islamic madrassa near your home town, study and learn the book of Allah, use your pen for Islam and plight of Muslim ummah and reveal the conspiracy of tiny elite who want to enslave the whole humanity for their evil agendas in the name of new world order."