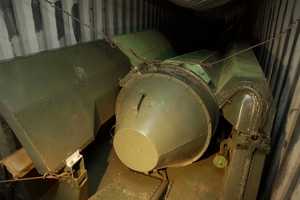 The British Government has issued more than 3000 export licences for military and intelligence equipment worth a total of 12.3 billion ($23.6 billion) to countries which are on its official list for human rights abuses.
The scale and detail of the deals emerged after a forensic investigation by a committee of MPs, who also found strategically controlled items have been sent to Iran, China, Sri Lanka, Russia, Belarus and Zimbabwe - all of which feature prominently on the Foreign Office's list of states with worrying civil rights records.
Even Syria has three existing contracts, notwithstanding the fact that Britain is sending equipment to rebels fighting the Assad regime and is considering arming them.
The Government had said it would not issue export licences for goods "which might be used to facilitate internal repression" or "might provoke or prolong regional or internal conflicts".
But the report by the Committees on Arms Export Controls found there were 62 licences for selling to Iran, again overwhelmingly cryptographic equipment. This also features heavily in the 271 licences for Russia.
In another case of international weapons dealing, drug enforcement officials in the Panama Canal found themselves at the centre of an international incident after detaining a North Korean ship coming from Cuba and carrying a hidden cargo of arms.
The boarding of the ship by police set off riots among the crew and the vessel's captain reportedly tried to commit suicide.
Ricardo Martinelli, the Panamanian President, said the ship - a cargo carrier named Chong Chon Gang, whose home port is Namp'o close to the North Korean capital Pyongyang - had been stopped as it approached the entrance to the Panama Canal, apparently on its way home.
Police found military material hidden in a large consignment of sugar, a key Cuban export. Martinelli posted a picture online of a tube-shaped object painted green, variously identified by experts as a missile part or radar equipment for missile launches.
The Cuban Foreign Ministry said the ship had been loaded with "obsolete defensive weaponry" at one of its ports. They were being sent back to North Korea for repair and included two anti-aircraft missile batteries, nine disassembled rockets, two MiG-21 fighter jets, and 15 MiG-21 engines, all Soviet-era military weaponry built in the middle of the last century.
Cuba said the weaponry was all required "to maintain our defensive capacity to preserve national sovereignty".
- Independent