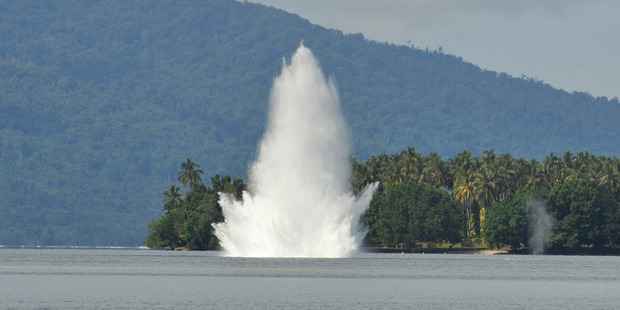 Four tonnes of unexploded World War Two bombs, mortars, projectiles and grenades have been cleared by New Zealand Defence Force experts in Solomon Islands.
The crack team found hundreds of unexploded weapons nestled among villagers homes and surrounding jungle before safely detonating them.
NZDF commander Trevor Leslie led the multi-national military Operation Pukaurua with more than 150 personnel from New Zealand, Solomon Islands Police, Australian Defence Force, the United States and Canadian Navies.
The team found more than 1500 90mm high explosive projectiles off Sasavele Island alone.
"We then shifted our focus to Rendova, which was cleared of all known ordnance, and then turned our attention to the village of Munda, where we found explosives around peoples' homes and in the surrounding jungle," said Commander Leslie.
"It's a tough job, but at the same time it's a fantastic adventure. I was in the middle of the tropics, blowing up bits of old bombs and making a community a safer place to live in."
- APNZ