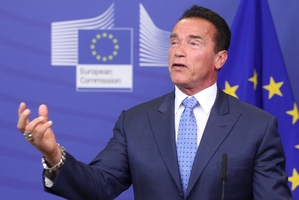 In the bearpit of Australian politics, it helps to have the Terminator on your side.
Or God for that matter. Or a billion bucks or so.
They are all in the mix for the coming federal election, annexed by new parties hoping to lure voters tired of the major parties with a mix of conservatism, capitalism and faith of one kind or another.
Yesterday the latest, the 21st Century Australia Party, was officially listed on the Australian Electoral Commission's website, noting its status as a party registration "inviting objection". In the same section are the Single Parents, Natural Medicine, Coke in the Bubblers, Smokers Rights, Stop the CSG (coal seam gas) and Australian Independents' parties.
The 21st Century Australia Party is the baby of self-described "business tycoon and motivational speaker" Jamie McIntyre, who claims action movie star and former Californian Governor Arnold Schwarzenegger as both friend and mentor.
Last month McIntyre, through his company 21st Century Education, brought Schwarzenegger to Australia for its annual financial summit, and admits to seeking advice on his fledgling political career.
McIntyre told Business Insider Australia that the former Governor had given him valuable tips.
Schwarzenegger counselled him against bogging down voters in detail and advised him never to talk down to people, to believe in what he's selling, and stick to the political centre.
"Most Australians agree that we need a legitimate third party to keep both Labor and Liberal parties honest and end the political duopoly," McIntyre said yesterday.
Describing himself as a "compassionate capitalist" with a strong social conscience, his mission is to help transform Australia into "a more abundant and prosperous nation for every single Australian ... by providing an economically successful environment that encourages, inspires and supports all Australians to perform at higher levels".
This includes establishing an independent board to remove government spending from the hands of politicians, building a new education system from the bottom up, rewarding people willing to work hard, lower taxes, attacking red tape, and managing the environment to balance a sustainable future with economic interests.
McIntyre is challenging former National senator Barnaby Joyce in the northern New South Wales seat of New England vacated by independent MP Tony Windsor. Joyce is the firm favourite.
With a target of 35,000 members, the party will also contest 75 other Lower House seats across Australia, and Senate seats in all states.
To the north, flamboyant Queensland mining magnate Clive Palmer is plugging away with his Palmer United Party. He has become one of the nation's most recognisable faces with his plans to build a replica of the Titanic, which is planned to sail on its maiden voyage in 2016.
Palmer was a life member of the Queensland National Party (and its successor Liberal National Party), before resigning and forming his Palmer United last April.
He wants a stronger refugee policy, to spread mining wealth by creating downstream processing along the eastern states, and to ensure the areas that produce the wealth get their fair share of the benefits.
And there is the Rise Up Australia Party, the creation of Sri Lankan-born evangelist Danny Nalliah, whose Catch the Fire Ministries specialises in a fire-and-brimstone view of the world.
Nalliah saw Victoria's Black Saturday fires and Queensland floods as God's retribution for sinful state policies, opposes multiculturalism and Muslim migrants, and rejects the notion that coal-fired power stations emit noticeable emissions of carbon dioxide.