Critics ask why customs boat waited for five hours before going to aid asylum-seekers.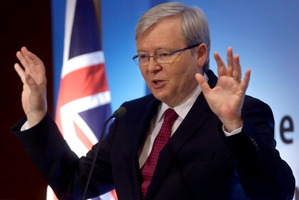 Australian authorities yesterday gave up the search for survivors of yet another asylum boat tragedy, with one young child dead and eight people missing, as the Coalition claimed the drownings highlighted the failure of the Government's border policy.
The search was called off as critics, including a former Australian ambassador, Tony Kevin, asked why customs officials waited five hours before directing their ship, the Triton, to help the boat, which capsized on Friday night north of Christmas Island. Eighty-eight people - mainly from Afghanistan, Iran and Sri Lanka - were rescued from the Indian Ocean, and the body of a boy under 1 was recovered.
But although the first distress call was received at 11.15am local time on Friday, customs did not send the Triton until 4.50pm. When it reached the stricken boat more than five hours later the vessel was already taking on water.
Prime Minister Kevin Rudd said he regretted the deaths, which underlined the importance of "the continued adjustment of our border protection policy", and of "elevating the work we do co-operatively with the Indonesians and others".
Opposition immigration spokesman, Scott Morrison, said Labor had "no policy" to combat people-smuggling and the latest tragedy "sadly can no longer be considered unexpected".
In an interview with Sky News yesterday, Morrison - who last week pledged that the Coalition would use SAS troops to turn asylum boats around - said political leaders would have the final say on whether a boat could safely be towed back to Indonesia. He also said the navy would be required to siphon petrol off boats to prevent them heading back to Australia.
Rescue efforts were called off by the Australian Maritime Safety Authority, which said it was highly unlikely anyone else would be found alive. As well as the Triton, another customs vessel and a merchant ship, the Garden City, had gone to the boat's aid, while three aircraft helped with the search.
Home Affairs Minister Jason Clare declined to comment on the delay in sending the Triton, telling a press conference there would be a "standard internal review" of procedures.
Kevin, a long-time critic of Australia's asylum policies, claimed lives were being put at risk because "there's an entrenched doctrine ... [among border and maritime safety authorities] that distress calls from asylum-seekers are not to be believed, that they're having a lend of us". The Opposition Leader, Tony Abbott, said the latest tragedy proved that "not only is it the right thing to do to stop the boats, it's the compassionate thing to do".