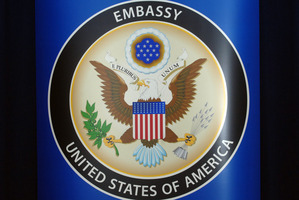 A car crashed into the main gate at the US Embassy in Canberra late last night, sparking a major response from emergency service personnel.
The bomb squad rushed to the site, as did six police cars, several fire crews wearing breathing apparatus, and ambulance staff.
Police closed off all surrounding roads, and said a 30-year-old man was helping them with their inquiries.
They said the bomb squad's involvement was a precaution given the incident was at a diplomatic residence - it is the home of Ambassador Jeffery Bleich and his family.