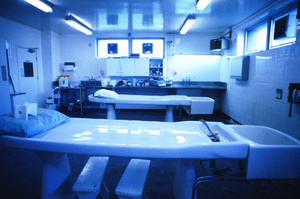 A New York hospital has been fined after a 'dead' woman woke up as her organs were about to be harvested.
Colleen Burns, a 41-year-old from Syracuse, New York, was admitted to St Joseph's Hospital Health Centre in October, 2009, after suffering a drug overdose.
Doctors believed Burns was dead and after getting permission from her family, prepared to harvest her organs, the Syracuse Post-Standard reported.
The woman had in fact been in a coma and she woke up on the operating table moments before she was to go under the knife.
The state health department fined St Joseph's US$6000, after determining the hospital ignored signs she was still alive, such as her toes curling when a nurse scraped the bottom of her foot, her lips and tongue moving on the way to the operating room and her nostrils being flared - a sign she was still breathing.
Dr David Mayer, associate professor of clinical surgery at New York Medical College, reviewed the report for the Post-Standard.
He found the decision to sedate the Burns before the operation perplexing.
"If you have to sedate them or give them pain medication, they're not brain dead and you shouldn't be harvesting their organs."
The hospital did not report the incident, and only investigated after the state department received an inquiry from the Post-Standard.
The hospital told the Post-Standard it follows strict policies and procedures for organ donations.
"We've learned from this experience and have modified our policies to include the type of unusual circumstance presented in this case," spokesperson Kerri Howell told the paper in an email.
Burns' family never sued the hospital following the incident, and according to her mother, Lucille Kuss, Burns was never upset about being mistaken for being dead.
Sixteen months later, Burns, who experienced depression, took her own life.
- nzherald.co.nz