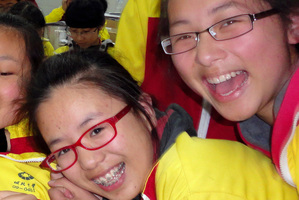 The trainer assigned to guide a pilot who crash-landed an Asiana Airlines plane in San Francisco was on his first day in the job.
With speculation mounting that pilot error may have caused the fatal accident, the South Korean airline confirmed yesterday that trainer Lee Jung-Min had received his teaching licence for the Boeing 777 just a month before the crash on Saturday.
The trainer, an experienced pilot with thousands of flying hours, was assigned to guide colleague Lee Kang-Kuk, who was landing in the US city for the first time on that model of aircraft.
"This is not something abnormal. Every trainer has his first day as a trainer," an Asiana spokeswoman said.
She added that the trainer had more than 3000 hours of flight time on the Boeing 777.
The pilot, by contrast, had just 43 hours flying that model although he was experienced on other aircraft with more than 9000 hours of flight time under his belt, Asiana said.
A key question raised by the National Transportation Safety Board investigation is why two experienced pilots - the pilot flying the plane and another supervising pilot in the other seat - apparently didn't notice the plane's airspeed problem. Part of the answer to that question may lie in whether the pilot flying, after switching off the autopilot, still had the plane's autothrottle engaged during the descent.
Aviation safety experts have long warned that an overreliance on automation is contributing to an erosion of pilots' stick-and-rudder flying skills. It's too soon to say if that was the case in the Asiana crash, but it's something NTSB investigators will be exploring, they said.
"It sounds like they let the airplane get slow and it came out from under them," said John Cox, a former US Airways pilot and former Air Line Pilots Association air crash investigator. "There are two real big questions here: Why did they let the airplane get that slow, and where was the non-flying pilot, the monitoring pilot, who should have been calling out 'airspeed, airspeed, airspeed'."
Two teenage Chinese girls were killed and more than 180 people injured when the flight from Seoul clipped a seawall short of the runway and went skidding out of control on its belly, shredding the tail end of the plane and starting a fire.
South Korean passenger Kim Ji-Eun, who was seated a few rows ahead of dozens of Chinese passengers at the rear of the cabin, including the two girls, described the terrifying crash.
"I saw people whose seat belts were somehow unbuckled being thrown out everywhere," Kim, 22, told the Chosun Ilbo daily. "It was so scary. The [second] thud was so loud that people started screaming. I blinked once and looked back, only to see no one there.
"I was so shocked to realise that none of the people who were seating behind me were there. I grabbed one of the oxygen masks ... Then I saw people screaming and jumping out of a big hole made in the aircraft and realised this was a very serious situation."
Officials said about 20 people remained in critical condition in hospital.
Cabin manager Lee Yoon-hye said she was calm despite the flames. "I didn't have a moment to feel that this fire was going to hurt me."
Students on US adventure
The two Chinese students killed in the Asiana crash were close friends and top students.
Wang Linjia (right) showed talent in physics and calligraphy; Ye Mengyuan was a champion gymnast who excelled in literature. Both were part of a trend among affluent Chinese families willing to spend thousands of dollars to send their children to the US for a few weeks in the summer to practise English and hopefully boost their chances of attending a US college - considered better than China's alternatives by many Chinese families.
The girls posted their last messages on their microblog accounts last week. The last posting from Wang said simply, "Go".
- AAP