Man described as key al-Qaeda operative arrives in Jordan to face terror charges.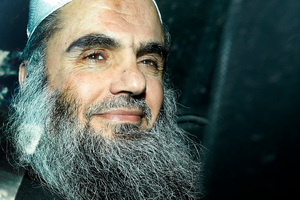 Radical Muslim preacher Abu Qatada was deported yesterday from Britain to Jordan to face terror charges, ending a more than decade-long battle to remove a man described as a key al-Qaeda operative in Europe.
The move comes after Britain and Jordan ratified a treaty on torture aimed at easing human rights concerns that had blocked previous attempts to deport the Palestinian-born Jordanian preacher.
British Home Secretary Theresa May announced Abu Qatada's departure.
"This dangerous man has now been removed from our shores to face the courts in his own country," May said. The Home Office posted a picture on Twitter of Abu Qatada, wearing a long robe and climbing the steps of a plane - proof that the lengthy extradition saga was over. He landed at Marka Airport in east Amman last night.
Abu Qatada was wanted in Jordan for retrial in several terror cases in which he was sentenced in absentia. Britain had tried since 2001 to deport Abu Qatada - whose real name is Omar Mahmoud Mohammed Othman - but courts have blocked extradition over concerns that evidence obtained under torture could be used against him.
After years of successfully fighting attempts to expel him, the 53-year-old preacher indicated he would return to Jordan if that country and Britain ratified a treaty on torture. That treaty, which explicitly bans the use of evidence "where there are serious and credible allegations that a statement from a person has been obtained by torture or ill-treatment", was ratified last month. Abu Qatada has been described in courts in Britain and Spain as a senior al-Qaeda figure in Europe who had close ties to the late Osama bin Laden.
- AP