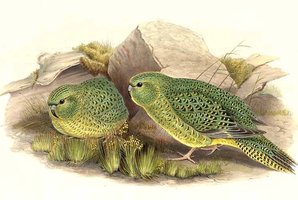 An Australian desert-dwelling parrot which hops like a kangaroo and hasn't been seen alive for more than a century has tongues wagging in the ornithological world.
An Australian naturalist claims to have captured video images of the night parrot, Pezoporus occidentalis, after a 15-year search.
John Young, who describes himself as a wildlife detective, showed the film and photos to a packed room of enthusiasts and media at the Queensland Museum on Wednesday.
Wildlife authorities were excited, saying the evidence supporting Young's claim was overwhelming.
The night parrot has never been photographed and the only evidence of its continued existence has been two dead birds found in 1990 and 2006.
Australian Wildlife Conservancy ecologist Dr Steve Murphy told ABC News: "It's incontrovertible. He's got stills, he's got videos and he's got feathers."
Reuters reported that Young lured the shy, palm-sized bird out with a recorded parrot call.
"I couldn't get over it," he said.
"The strangest thing about this parrot, living on the ground, it hops like a little kangaroo."
Since 1990, when a dead bird was found by a road in Queensland, many naturalists have gone into the vast Australian desert in search of the parrot.
An Australian conservationist likened Young's sighting to "finding Elvis Presley flipping burgers in the Outback".
In 2007, doubt was cast on a claim by Young to have discovered a new species of fig parrot.
Some experts accused him of doctoring his photos to make the species appear to be new. He has refused to make public the precise location of the find, saying this is to preserve the security of the habitat.
His photographs and video are subject to a deal with a media company.
The night parrot is small with yellowish green plumage, mottled with brown and black specks. It hides in spinefex grass during the day and is active at night.
The International Union for Conservation of Nature listed the bird last year as critically endangered, its population depleted by feral cats, foxes and changes in the environment after European settlement.