PM plans 'one-strike' policy of immediate expulsion for any Labor MP implicated in dodgy dealings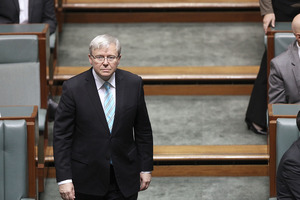 Australian Prime Minister Kevin Rudd has begun a crackdown on corruption, taking control of the notorious New South Wales branch of the Labor Party in a bid to clean a vital house before the coming election.
The NSW Labor Party has long been attacked for corruption within its ranks, ranging from individual politicians and powerbrokers to local councils, with several now in administration and more under investigation.
But the long-running inquiry by the state's Independent Commission Against Corruption into allegations against former ministers Eddie Obeid and Ian Macdonald has become the final straw.
Allegations that Obeid and Macdonald made tens of millions of dollars through a criminal conspiracy by manipulating a coal exploration tender helped hurl State Labor from power in 2011 and are now seriously hurting the federal Government.
Obeid had previously been accused, but cleared, of corruption as a minister, and been mired in controversy as a party powerbroker.
They have been expelled from the party.
The stain from the revelations emerging from the ICAC hearings spread from NSW to the federal Labor Government.
"I think there is a boil that needs to be lanced here," Assistant Treasurer David Bradbury, who holds the outer western Sydney seat of Lindsay, told Sky News.
Rudd, intent on clearing the decks after his return as leader last week, added NSW Labor's problems to a weighty list that includes asylum seekers and the carbon tax.
Yesterday Rudd said that the party's national executive would take control of the NSW branch for 30 days, sidelining its top members and officials to impose a tough new set of rules to stamp out corruption.
Under his plans MPs would be subject to a "one-strike" policy that would result in immediate expulsion for any implicated in corruption.
The planned rules will also impose greater judicial oversight of the state objective, and bar property developers from becoming MPs unless they divest their major interests.
NSW Labor leader John Robertson said he was "incredibly enthusiastic" about Rudd's action.
"This sends a strong message to the community that we in the Labor Party won't ever stand for corruption."