King Albert IIIll-health, sex scandal and internal strife form backdrop for decision to hand over to Prince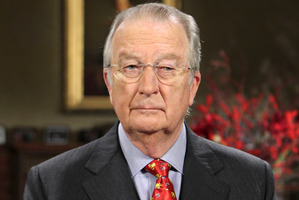 King Albert II of Belgium announced his abdication yesterday, amid ill-health and against the backdrop of a court case over his alleged paternity of an illegitimate daughter.
In an unexpected address to the nation, the 79-year-old King said he would formally abdicate in favour his son, Crown Prince Philippe, on July 21, Belgium's national day. It is the first time a Belgian monarch has voluntarily stepped down.
"I am at an age never attained by my predecessors," he said. "I have noticed that my age and health no longer allow me to fulfil my job as I should have wished. I would not meet my duties and not honour my view of the royal function if I stuck to my post at all costs."
Albert, who has played a critical role in holding Belgium together as a country over the past three years, is approaching his 20th anniversary on the throne, after taking over from his brother Baudouin of Belgium, who died in 1993. The King is known to be unwell and exhausted after a difficult five years for Belgium where deep divisions between Flemish Dutch-speakers and French-speaking Walloons have pushed the country to the brink of break-up.
Many believe the political strife has worn the King out, especially the world record 541 days that he was royal mediator between squabbling communities when Belgium was without a government following elections in 2010 where Flemish republican separatists became the country's largest party.
As well as playing the difficult role of national mediator, Albert has faced a number of royal scandals that have damaged the standing of the monarchy, including a current court case brought by Delphine Boel, 45, an artist, alleging that she is his illegitimate daughter.
The abdication will give Prince Philippe, who is not popular in Flanders, time to make his mark as king before difficult national elections next year. "The abdication will enable the future king to meet political leaders ahead of the elections," said Caroline Van Wynsberghe, a political scientist at the Brussels ULB university. "Everyone fears a repeat of the 2010-2011 crisis."
Prince Philippe
The 53-year-old Prince is an experienced fighter pilot and parachutist with degrees from Trinity College, Oxford, and Stanford University. He is married to Belgian-born Princess Mathilde with three children. His daughter Princess Elizabeth, 11, will be the next in line to the throne.