Labor's new leaders lean towards conscience vote after next election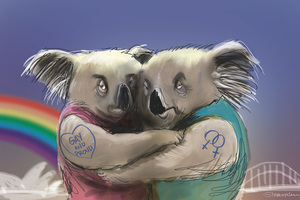 Same-sex marriage is again rising on Australia's political radar as resurrected Prime Minister Kevin Rudd repositions the Government for the election he has yet to call.
Rudd sees the divisive issue as a lure for the youth vote, with opinion polls showing wide public support for gay and lesbian weddings in the wake of New Zealand's decision to legalise same-sex marriage.
New Deputy Prime Minister Anthony Albanese told ABC Triple J radio that Labor would "make gay marriage happen" if it was returned to power.
Albanese later told News Ltd that Labor had always led the way on social reforms, although he said the issue would still be subject to a conscience vote by Government MPs. The conscience vote was a condition of support for same-sex marriage in Labor's platform, engineered by former Prime Minister Julia Gillard, who remained staunchly opposed to the move.
And the political fragility of same-sex marriage in Parliament was underwritten by the failure of a Greens bill proposing its legalisation to come to a vote in the Lower House.
In the Senate the bill was rejected by 48 votes to 28, despite support from a Liberal Senator who crossed the floor to vote in favour of the move. Labor MPs are also divided on the issue, and strong opposition continues in the wider Labor movement.
Yesterday Shop, Distributive and Allied Employees Association national secretary Joe de Bruyn, a Gillard ally and fellow opponent of same-sex marriage, told the Australian the public was not ready for the move.
But Rudd's advocacy has been hardening, backed what he sees as strong support among the nation's young voters.
"Wherever I go in Australia, young people think that our current arrangements are just wrong," he said.
Rudd urged Opposition leader Tony Abbott to allow a conscience vote for Coalition MPs, saying that if Abbott refused he would consider holding a plebiscite or referendum.
"Whoever wins the next election, let's just have the civility to open this to a conscience vote for all," he said. "I would just prefer to have this thing resolved."
Rudd also described himself as the first Prime Minister to become a "fully signed-up supporter of marriage equality".
Abbott, who continues to lead in the polls despite a surge by Labor after Rudd's return to power last week, has reaffirmed his opposition to same-sex marriage and his refusal to allow a conscience vote.
Rudd's suggestion of a plebiscite or referendum is also opposed by gay activists, who believe it would more deeply divide the nation. They would prefer the establishment of a cross-party group to push the move and strengthen support for a conscience vote.