Sole survivor of wildfire tragedy receiving support as details emerge of freak incident that claimed colleagues.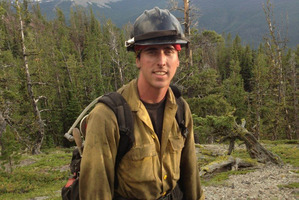 The sole survivor of a blaze that wiped out the other 19 members of his elite firefighting unit has been identified as Brendan McDonough.
McDonough, 21, escaped by chance because he was moving the crew's fire engine when they were engulfed by the bushfire in Arizona.
On Monday, shortly after the tragedy, McDonough, originally from Oceanside, California, posted to friends on Facebook saying: "Thank you all for the love and support."
Like some of his fellow Hotshots, McDonough went to Prescott High School and studied firefighting at nearby Yavapai College.
He is said said to be struggling with the deaths of his 19 friends from the Granite Mountain Hotshots crew.
Dan Fraijo, the fire chief in Prescott, Arizona, said the surviving fireman is well, but he added: "He feels terribly, and we all feel terribly, and we have very few words that express that sort of sorrow.
"When you take a person in your arms and hug them, you know, you don't have to say too much. He had been assigned to do a function, and he wasn't with them when they had deployed to shelter."
According to officials, McDonough had been acting as a lookout. He was on the move when the wind changed.
The first details were released of the 19 men who lost their lives as they battled the vast Yarnell Hill fire 130km northwest of Phoenix, which now covers more than 32sq km of drought-parched chaparral and has destroyed 200 buildings.
The dramatic wind change split the fire and trapped them between two walls of flame. As a last resort they cocooned themselves in heat-resistant tarpaulins, but they were consumed within seconds.
Fourteen of the men were in their 20s and they included at least three expectant fathers.
Before his death, Andrew Ashcraft, 29, a Mormon father of four, had texted pictures of the blaze to his wife Juliann, saying it was "wild" and that "we could sure use some rain".
His distraught wife said: "They died together doing what they loved. Our kids will remember them as heroes."
The youngest victim was Kevin Woyjeck, 21, who telephoned his father Joe as he headed to the blaze. Joe Woyjeck, also a firefighter, said his son grew up "looking forward to becoming a firefighter like his Dad. Words can't describe the loss."
The eldest among them was unit superintendent Eric Marsh, 43, known as "Lifeline". His father John Marsh said the vastly experienced firefighter was "compassionate and caring about his crew".
More than 1000 people, including shell-shocked fellow firefighters straight from the front line, packed into a sports centre in Prescott for a memorial service.
Prescott, a place steeped in Wild West history, bills itself as "Everybody's Home Town" and had been proud to have one of only 112 elite "Hotshot" fire units in America.
One speaker said: "These families are going to have their hearts ripped out for decades."
Through tears, trainee firefighter Nicholas McCannon, 19, told how he had lost his friend Dustin Deford, 24. He said: "It's heart-crushing. You have to be crushed, you're not human if you're not. I have several friends out there and they are still willing to go out and fight despite what's happened. They are fighting to keep us safe."

What went wrong
• An investigation into the tragedy is under way and questions being asked include whether an "incident meteorologist", who studies the effect of weather on bushfires, should have been sent to the scene.
• The US Forest Service's firefighting budget was cut by 5 per cent this year, while damage caused by bushfires has doubled since the 1990s.