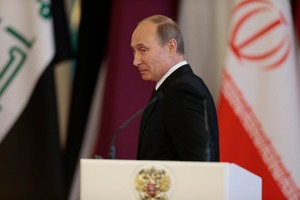 United States fugitive Edward Snowden has abandoned his request for political asylum in Russia after Moscow told him he would have to stop leaking US intelligence reports, a Kremlin spokesman said last night.
"He abandoned his intention and his request to receive the chance of staying in Russia," Russian President Vladimir Putin's spokesman, Dmitry Peskov, told reporters.
Snowden applied for asylum on Monday and yesterday Putin said he was welcome to stay in Russia as long as he stopped his leaks.
WikiLeaks said yesterday that Snowden had submitted asylum requests to 19 nations in addition to earlier requests to Ecuador and Iceland. WikiLeaks said its legal adviser in the Snowden matter, Sarah Harrison, had personally submitted other requests on behalf of Snowden, the National Security Agency (NSA) whistleblower.
"The requests were delivered to an official at the Russian consulate at Sheremetyevo Airport in Moscow," a WikiLeaks statement said.
"The documents outline the risks of persecution Snowden faces in the US and have started to be delivered by the Russian consulate to the relevant embassies in Moscow."
The petitions on Snowden's behalf were made to Austria, Bolivia, Brazil, China, Cuba, Finland, France, Germany, India, Italy, Ireland, Netherlands, Nicaragua, Norway, Poland, Russia, Spain, Switzerland and Venezuela, the group added. Poland's Foreign Minister said the country would not grant asylum to Snowden.
Last night Venezuelan President NicolasMaduro said: "He [Snowdon] deserves the world's protection. He has not asked us for it yet. When he does we will give our answer."
Snowden yesterday accused US President Barack Obama of "pressuring the leaders" of countries from which he has sought protection. In his first public announcement since fleeing Hong Kong eight days ago, Snowden said Obama of having ordered Vice-President Joe Biden to put pressure on leaders of countries where he was seeking asylum.
It also emerged that Snowden had written to Ecuador's President Rafael Correa thanking him for his support in his bid to avoid extradition. "There are few world leaders who would risk standing for the human rights of an individual against the most powerful government on earth, and the bravery of Ecuador and its people is an example to the world," he wrote.
The Independent reported that relations between Ecuador and WikiLeaks' Julian Assange, who claimed asylum in the country's west London embassy more than a year ago, were becoming "incredibly strained".
- AFP, Independent