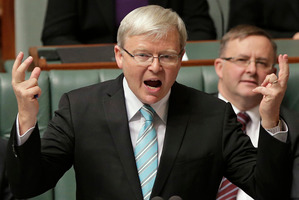 Resurgent Australian Prime Minister Kevin Rudd is moving fast to set the political agenda and fix crucial policies in his first full week in the job since toppling predecessor Julia Gillard last week.
Ahead of talks with Indonesian President Susilo Bambang Yudhoyono on Thursday and Friday, Rudd yesterday announced a Cabinet that rewarded supporters, shifted Gillard loyalists, and included a record six women in what he described as a "meritocracy".
The new Cabinet met for the first time yesterday after being sworn in by Governor-General Quentin Bryce, with an agenda led by asylum seekers and other top priority issues under new ministers.
A rash of senior Cabinet resignations followed Gillard's fall, and yesterday party stalwart and former leader Simon Crean announced his resignation from politics, opening fresh fields for Rudd on one hand while thinning the talent pool on the other.
In a key exception, he handed the fraught immigration portfolio to Gillard supporter and former Environment Minister Tony Burke, who will now take the lead in what is expected to be a hardening of an already tough policy on asylum seekers.
Rudd will also frame a new approach to the politically charged carbon tax - possibly accelerating its transition to an emissions trading scheme - handing climate change and environment to former Mental Health and Housing Minister Mark Butler.
Rudd further faces continuing problems in the rollout of the A$34.7 billion ($41 billion) high-speed national broadband network, which Opposition Leader Tony Abbott wants to dump in favour of a slower, cut-price alternative.
Signalling the importance of the NBN, Rudd added communications to the weighty transport and infrastructure portfolios held by new Deputy Prime Minister Anthony Albanese. And, under Education Minister Bill Shorten - the former Workplace Relations Minister whose defection to Rudd helped seal Gillard's defeat - Rudd will renew the drive to sign up reluctant conservative states to the overhaul of the nation's education system.
With only New South Wales, South Australia, the Australian Capital Territory on board - and possibly this week, Tasmania - Rudd has extended by two weeks the deadline for states to sign on in the hope of changing minds in Queensland, Victoria and Western Australia.
Rudd needs to act fast to capitalise on a honeymoon that has driven the Government to within reach of victory, and consolidate the surge as he heads for an election on a date yet to be determined.
He has all but ruled out Gillard's September 14 poll, with most commentators and analysts expecting him to allow time to settle his new Government in place, redefine policies and strategies, and lock in its leap in popularity.
Two polls last week put Labor only points behind the Coalition, reinforced by a weekend Galaxy poll in News Ltd newspapers showing the Coalition still led the two-party vote that decides Australian elections by 51-49 per cent, but pushing Labor to within sight of survival.
Yesterday a Newspoll in the Australian reached similar conclusions after Labor's primary vote soared by 6 per cent, also reporting that Rudd outstripped Abbott as preferred prime minister by 46-37 per cent.
Abbott has conceded that the game has changed: "Certainly I think the atmospherics are different."
But Rudd's road to the election remains steep and pot-holed. An urgent priority is to convince voters that he can handle and stem the thousands of asylum seekers arriving by boat from Indonesia.
Rudd has warned that Abbott's determination to send boats back to Indonesia regardless of Jakarta's opposition risks confrontation.
Indonesia has refused to be drawn on the comments, saying the matter would be discussed at Rudd's meeting with Yudhoyono in Jakarta this week.
But there are signs Labor will further harden its stance, possibly by tightening the definition of refugee.
A review of the system will be urgently considered by the new Cabinet.