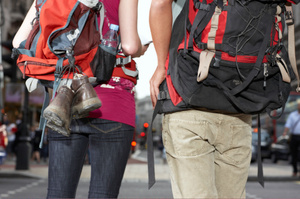 Australians may be placed on an international wanted list if they fail to return to Peru today to answer accusations that they murdered a doorman by throwing him off a 12th floor balcony.
The six - three from Sydney, three from Melbourne - checked into an apartment in Lima in January last year while travelling together in South America.
Two hours later, the body of Lino Rodriguez Vilchez, 45 was found on the footpath outside.
Police initially ruled his death a suicide, and after the backpackers had been questioned, along with everyone else in the apartment block, they were told they could continue their travels.
Five months later, after they had returned home, they learnt Rodriguez's death was being treated as a murder and they were prime suspects.
Now Peruvian authorities have subpoenaed them to return to Peru by today to make statements ahead of a trial, or face Interpol issuing a "red notice" and international arrest warrants.
Sydney-based university students Sam Smith, Harrison Geier and Andrew Pilat, and Melbourne locals Jessica Vo, her boyfriend Hugh Hanlon, and his younger brother, Tom, all in their 20s, have always maintained their innocence.
They say the only contact they had with Rodriguez was when he helped them carry their luggage to the lift and, shortly afterwards, gave them directions to a grocery store. He was never in their room, say the six, who heard screams and a "thud" after they returned to the apartment with their shopping.
Australian Attorney-General Mark Dreyfus has met the group and their families and says Foreign Minister Bob Carr as well as Australia's Embassy in Peru is giving them assistance. Australia has an extradition treaty with Peru.
The Australians believe suspicions were raised by Rodriguez's brother, Wilbur, who claims Rodriguez was beaten and thrown off the balcony after an argument with the backpackers about noise.
Peruvian newspapers have reported that Rodriguez had large debts and his family would not receive an insurance pay-out if his death was a suicide.