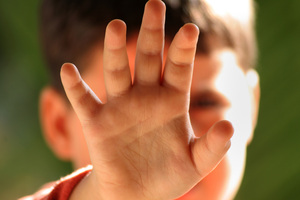 Babies and toddlers are increasingly becoming targets for paedophiles, a child safety group has said in the wake of a horrific child abuse case.
The comments from ECPAT follows the horrific international paedophile case that was cracked with the help of New Zealand's Internal Affairs Department.
A 42-year-old Australian man has been jailed for 40 years in the United States after he bought a baby boy for US$8000 (NZ$10,321) with his partner, sexually abused the child and traded him to other paedophiles to abuse.
He and his male partner, who lived in Cairns, were tracked down by authorities after being tipped off by the censorship compliance team at Internal Affairs which investigates online child sex abuse.
The investigation began when senior Internal Affairs investigator John Peacock alerted Australian authorities after noticing something suspicious about a series of photos of a 6-year-old boy, stored on the computer of a man in a separate investigation.
ECPAT director Alan Bell told Radio New Zealand the Department of Internal Affairs was fronting the battle against child sex offenders, but it only had 13 investigators to target the increasing crime rate.
"It's something that we need to stamp out, they do need more resources. As long as it's there and it's so prevalent there's demand that more resources be put towards it.''
Paedophiles were offending against babies who were not able to speak out, he said.
"The acts are becoming more violent - we're talking about rape and torture. The victims are becoming younger and it's not uncommon, sadly, for toddlers, babies, infants to be violently sexually abused.''
The latest case was particularly bad because the child was bought for the purpose of being abused, Mr Bell said.
Mr Peacock told RNZ he had seen a trend of younger victims.
The reason behind that was that "pre-verbal children'' were not able to describe the type of abuse they were suffering, he said.
He said this latest case was rare in terms of the degree of premeditation and global organisation involved.
"I wouldn't be foolish enough to believe it was not happening elsewhere. I would certainly consider that people who are organised enough, financed enough and resourced enough would be doing these sorts of offences all around the world.''
Mr Peacock said the unit was punching above its weight with helping to catch perpetrators.
"We're a public sector organisation and resources are going to be constrained and that's a reality we have to live by.''
But he said it was "logical'' that if they had more resources, the department would be able to catch more offenders.
"We're aware of the constraints we're under and we work around those and are still achieving, I think, fairly highly.''
- APNZ