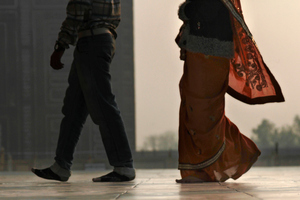 In the dust-blown courtyard of a slum village on the outskirts of Lucknow, 25-year-old teacher Usha Vishwakarma is leading her "Red Brigade" gang of teenage girls in mixed martial arts training.
They are kneeing imaginary assailants and punching out at potential molesters, all in the cause of a fightback against Indian manhood which has surged since a 23-year-old student was gang-raped and killed by six men on a Delhi bus in December.
A group of 100 new recruits donned the uniform of red kurta pyjama tops, baggy black trousers and dupatta scarves as they joined Vishwakarma's unique response to India's increase in rapes and sexual assaults against women. The Red Brigade does more than shout about abuse: it humiliates and beats male tormentors.
Most recruits are, like her, victims of sexual assaults, harassment or attempted rapes and joined her group in frustration at the failure of Indian political leaders and police to curb sexual violence.
Delhi's chief minister, Sheila Dixit, one of India's most powerful women, voiced her own frustration. She said nothing had changed for women despite the national soul-searching which followed the case. Women were still too afraid of "insensitive" police to go to a police station and report a sexual assault and many were intimidated because assailants were relatives or neighbours, she said.
Vishwakarma's answer to police inertia is to first confront "Eve teasers", the deceptively innocent-sounding term for abusive offences ranging from bottom pinching to serious assault.
This is done by massing her cohort outside suspected offenders' homes late at night to denounce them as sex pests and hurl insults in front of their family and neighbours. If that does not deter them or produce a show of humility, they deploy up to 15 young women to slap them about the face and body, or hoist them in the air and beat him with their sandals.
It is a radical approach in a country where women are expected to be meek and subservient, and to suffer in silence rather than risk shaming or dishonouring their families by talking openly about sexual abuse. Her decision to start the group was borne out of bitter experience: Vishwakarma was assaulted herself by a teacher colleague during the school day.
"He was someone who knew me. I had been to his home two or three times. He suddenly grabbed me in a bear hug and started sexually assaulting me. I was surprised but kicked him in the stomach. He fell to the ground and I ran home," she recalled.
She had expected him to be ashamed of his behaviour but instead, he denounced her to their colleagues as a "bad girl". None of the teachers supported her, she said, and as with her pupil who had been raped, the police refused to register a case against her attacker. Instead, she was persecuted with anonymous sexually explicit messages on her mobile phone, allegations were made to the police that she had been involved in kidnappings and even sexual harassment, and her head teacher transferred her to another school.
The police raided her home when she was away. Charges of threatening behaviour, theft and sexual harassment against her were dropped only after her family protested, but even her relatives warned her to drop her campaign for justice, she said.
Although she was shocked, she fought back. Her experience convinced her to dedicate herself to confronting a widespread problem. "I decided to form a gang of girls who had been sexually abused. I wasn't interested in violence. I just wanted to protect myself. So I started to plan self-defence classes. Our red kurtas represent danger and the black trousers represent our protest. Indian girls like red dresses," she said.
"The plan was three-fold. First, when someone hurts or teases any girl we protest because Indian girls are shy and can't protest. We'll challenge them to change their mind. If they don't understand we go to their home and complain to their parents that what they are doing is unlawful.
"But if this fails, we will send the Red Brigade to their place to insult them publicly. The last thing, because the police are not supporting us and to make them understand, we make a slap. All these girls, sometimes 15 of us together, and they slap them," she explains after a martial arts lesson at her spartan academy in Lucknow, the teeming capital of Uttar Pradesh state, which borders New Delhi.
Her resolve was deepened by other incidents among students and staff, including the rape of an 11-year-old girl by her uncle.
"The police would not file a report. It happened in her own home as she was sleeping," she said.
So far, her Red Brigade units have beaten up four unrepentant suspected molesters, responding to complaints from victims.
After receiving the sandal treatment, one offender ran away promising never to trouble the girl again. The parents of another man thanked the brigade for their actions.
The girl the latter had abused is now one of her Red Brigade fighters - Laxmi, 16, a slight schoolgirl with a long ponytail. "Some boys had started making comments to me, sexual comments, and touched me, I was very scared," she said. Later, she slapped her assailant, and is now convinced martial arts are the answer for India's girls.
Their willingness to resort to physical force is controversial among India's feminists who, while admiring their bravery, fear it will undermine their fight for better enforcement of equality laws.
The causes of a surge in reported rapes throughout India are under debate. Some blame the migration of poor labourers with traditional attitudes to the cities, where girls and women are especially vulnerable in slums.
Usha Vishwakarma said one of the biggest challenges is that most Indian women want to get married and settle rather than fight for their rights.
"The psychology of Indian men is to use women for their own service. They want to make them like a servant. That's why these incidents are happening," she said.

Numbers
• 463 - Rapes reported in the Indian capital, New Delhi, this year, more than double those in the same period last year.
• 24,000 - Rapes reported in 2011, more than 2,000 committed in Uttar Pradesh.