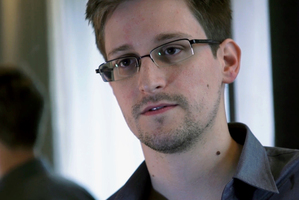 Edward Snowden has admitted he deliberately went to work for United States intelligence contractor Booz Allen Hamilton to harvest highly classified evidence of the National Security Agency (NSA) surveillance programmes he hoped to expose.
"My position with Booz ... granted me access to lists of machines all over the world the NSA hacked. That is why I accepted that position about three months ago," he told Hong Kong's South China Morning Post in an interview published yesterday.
Asked if his decision to take the job had been a calculated move designed to give him access to secret information, Snowden reportedly replied: "Correct on Booz."
Snowden, whose exact location was unknown last night, flew out of Hong Kong and has reportedly requested asylum in Ecuador. He had been expected to fly from Russia to Cuba on Aeroflot but journalists who went on to the plane found his seat empty.
In new extracts from a June 12 interview with the South China Morning Post Snowden said he would continue to leak his findings to journalists around the world.
"If I have time to go through this information, I would like to make it available to journalists in each country to make their own assessment, independent of my bias, as to whether or not the knowledge of US network operations against their people should be published."
His decision to leave Hong Kong reportedly came after an "intermediary" from that Government told him authorities could not guarantee he would not be jailed while awaiting trial.
The US has demanded that Russia hand Snowden over.
President Barack Obama said the US was using "all the appropriate legal channels" to apprehend him.
White House spokesman Jay Carney said Washington assumed he was still in Moscow, and had registered its "deep disappointment" with Hong Kong and China for letting him slip away. Last night Russia called US demands for Snowden's extradition "ungrounded and unacceptable".
Julian Assange, the WikiLeaks founder, said his organisation assisted Snowden in his flight.
Asked whether it was not surprising a champion of freedom of expression should ally himself with China, Russia, and potentially Cuba or Ecuador, Assange said: "I do not see the irony.
"Mr Snowden has revealed information about mass unlawful spying that has affected us all," he said. Telegraph Group Ltd, AP