Age, health and appeals process will help former Prime Minister avoid prison cell.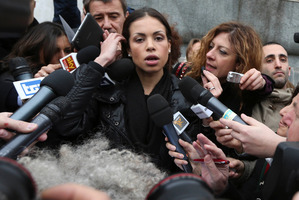 Silvio Berlusconi was given a seven-year prison sentence and banned from holding public office for life but a legal expert says he is unlikely to actually see the inside of a prison cell.
An Italian court found the former Prime Minister guilty of abuse of office and paying for sex with an underage prostitute. Three judges in the court in Milan deliberated for more than seven hours before finding the 76-year-old guilty on both charges.
But Chiara Magrini, professor of law at John Cabot University, says the chances of Berlusconi serving time are slim. "I would be very surprised because, in general, people who are beyond a certain age, for health reasons ... in general the first thing that they are going to ask is whether they can, let's say, 'enjoy' the penalty at home, but not go physically into prison.
"Interdiction from public offices implies that Berlusconi cannot be elected, cannot be a public officer any more - so prime minister, minister, deputy and so on," she said, referring to his ban from politics.
Piero Longo, one of Berlusconi's lawyers, said they would appeal against the conviction. If that is unsuccessful, Berlusconi has recourse to a second appeal in front of Italy's Supreme Court. Together they could drag the case out for years. Pending the appeals, he will not go to jail. Berlusconi, who has long accused judges and magistrates of being tools of the centre-left Opposition, could withdraw backing from the coalition Government of Prime Minister Enrico Letta in order to force new elections which he would have a fighting chance of winning.
That would enable him to bring in an immunity law or other measures which could shield him from this sentence and others that he faces, notably a four-year sentence for tax fraud in his Mediaset company which he is appealing against.
Roberto D'Alimonte, a political analyst for Il Sole 24 Ore and professor at Rome's LUISS University, said the tax fraud conviction posed the more immediate threat since Italy's highest court was likely to rule before the statute of limitations ran out. The sex-for-hire case "weakens him politically, but not that much, because we have seen that his voter base seems to be insulated from the impact of these sentences. We saw in the last elections, everyone thought he was dead, but he came back to life."
Yet the convictions were a bitter blow for Berlusconi and his supporters. "It is shameful, it is a political sentence that has nothing to do with justice," said Daniela Santanche, an MP from Berlusconi's conservative party. "This sentence is a rape of the law in the name of a political struggle carried out by judicial means," said Luca d'Alessandro, another Berlusconi MP.
Berlusconi was not in court but later said he had been "convinced" he would be found not guilty, claiming there was not enough evidence against him. He said it was an "unbelievable sentence, of a harshness never before witnessed, in order to try to eliminate me from the political life of this country. I intend to fight this persecution because I'm absolutely innocent and I do not want in any way to give up my struggle to make Italy a free and just country."
The trial lifted the lid on the "bunga bunga" parties Berlusconi held at his mansion outside Milan in 2010 after his wife announced she was filing for divorce.
The media tycoon insisted publicly and in court that the parties were nothing more than "elegant dinners" at which he crooned love songs and regaled his female guests with anecdotes. At most they involved the young women, who were "by their nature exhibitionists", performing "burlesque contests" which he conceded he watched with "great interest".
The three female judges agreed with the prosecution that Berlusconi had developed a system of prostitution designed to "satisfy his sexual pleasure". The judges recommended that more than 30 witnesses who gave evidence on Berlusconi's behalf, including topless models and a Neapolitan musician with whom he has recorded CDs of ballads, be investigated for false testimony.
Berlusconi was accused of paying tens of thousands of euros for sex with a Moroccan-born erotic dancer, Karima El Mahroug, who called herself "Ruby the Heart Stealer". Now 20, at the time she was just 17. Under Italian law it is illegal to pay for sex with a woman under the age of 18. Berlusconi claimed she had told him she was 24.
In court, she denied having sex with the septuagenarian, but in an intercepted phone call she told a friend, Caterina Pasquino: "I'm at Berlusconi's, I'll dance, then I'll strip, then I'll have sex." She later said she had been joking.
The three-time Prime Minister and owner of AC Milan was also accused of abusing his political office by putting pressure on Milan police to release her after she was arrested on charges of stealing money and jewellery from her flatmate. Berlusconi told the police Ruby was the grand-daughter of Hosni Mubarak, the Egyptian President at the time, and that she must be released in order to avoid a diplomatic incident.
El Mahroug told investigators she had witnessed showgirls dressing up in nurses' outfits and police uniforms, stripping to their underwear and engaging in mock lesbian shows. The women allegedly "touched the intimate parts" of Berlusconi, who in turn touched them intimately, rewarding them with envelopes stuffed full of thousands of euros. The women performed erotic dances in an underground "bunga bunga" room at his villa, featuring a stage, a bar and a dance floor. The villa, in Arcore outside Milan, was swiftly dubbed "Hardcore" by the Italian press.
- AP