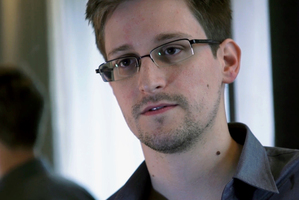 Ecuador's Foreign Minister said his country was "analysing" a request for asylum by fugitive United States intelligence leaker Edward Snowden, who was expected to leave Moscow for Cuba last night.
"We will make a decision ... we are analysing it," Ricardo Patino said of the request by Snowden, who is on the run from US authorities over his explosive leaks on American intelligence methods.
"It [the request] has to do with freedom of expression and the security of citizens around the world. We always act by principle, not in our own interest. There are some governments who act more on their own interests, we do not," he added.
Snowden, a former National Security Agency (NSA) contractor, arrived in Russia on Sunday night from Hong Kong, hoping to win asylum in Ecuador and evade arrest after leaking sensational details of secret US surveillance programmes.
He was expected to head to Ecuador via Cuba and AFP correspondents at Moscow's Sheremetyevo Airport saw an Ecuadorean-flagged diplomatic car at VIP arrivals.
"We know he is in Moscow, we're in talks with higher authorities," said Patino, who is in Hanoi on an official visit to communist Vietnam.
Fellow passengers on Flight SU213 from Hong Kong to Moscow said that when the plane touched down, Snowden climbed into a BMW with diplomatic number plates which drove on to the tarmac.
Cars from the Ecuadorean Embassy pulled up outside the terminal building, accompanied by Russian government cars.
The South American country, led by outspoken leftist President Rafael Correa, has been sheltering WikiLeaks founder Julian Assange, who is wanted by Sweden, at its London Embassy for the past year.
Snowden was with Sarah Harrison, a British researcher who has worked with Assange. WikiLeaks said its staff had helped Snowden in arranging safe passage to Ecuador.
US authorities have been severely embarrassed by Snowden's revelations of intelligence trawling by the NSA of phone call logs and internet data, prompting concern from governments worldwide and outrage from privacy campaigners.
He made the revelations from Hong Kong, which let him travel to Moscow, prompting criticism from US authorities who have laid charges including theft and espionage against the whistleblower. The White House said it expected the Russian Government to "look at all options available" to send Snowden back to the US to face espionage charges.
National Security Council spokesman Caitlin Hayden said the US also registered strong objections to authorities in Hong Kong and China through diplomatic channels at the decision to let Snowden flee.
Snowden's route to Quito was expected to take him through communist Cuba, which would be unlikely to heed US requests for help.
Hong Kong said the original US request had failed to "fully comply" with local law and the US Department of Justice had not supplied further information it had asked for.
But Washington insisted the request "met the requirements of the agreement", which normally only requires the country requesting the extradition to provide basic details of the allegations.
The US Government said it had already cancelled Snowden's passport, raising questions about how he had been able to exit Hong Kong. Some believe Hong Kong let him go to avoid a drawn-out and controversial extradition battle.
What is the situation with Edward Snowden's US passport?
Snowden's passport was annulled before he left Hong Kong for Russia, a US official told AP. State Department spokeswoman Jen Psaki refused to comment on Snowden's passport specifically but said individuals facing arrest warrants could have their passport withdrawn.
How does that affect his travel?
While it could complicate his travel plans, the lack of a passport alone could not thwart his plans, the US official told AP. If a senior official in another country or with an airline orders it, a country could overlook the withdrawn passport.
Where is Snowden headed?
Snowden was said to have landed in Moscow but was not seen leaving the airport. Snowden's allies said he was heading for Ecuador, where the Government had received an asylum request. The State Department said the US was in touch with countries Snowden might travel through or to.
- additional reporting AFP