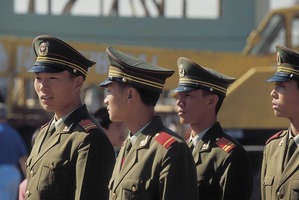 The Chinese Communist Party is notorious for the ruthlessness with which it pursues its opponents, but what is less well known is how viciously it sometimes treats its own members.
Since a major anti-corruption campaign was started by the President, Xi Jinping, at the end of last year, glimpses have emerged of the torture that wayward party members are subjected to, sometimes fatally.
The system is run by the Central Commission for Discipline Inspection, an arm of the party that operates above the law.
Since January, about 2300 officials have been "disciplined" by the system known as "shuanggui".
At the beginning of March, an important Communist Party official in the northern city of Dandong vanished. For 24 hours, no one knew what had happened to Guan Shaofeng, 50, a biologist who ran the inspection department at the city's custom house.
Guan was grabbed by agents from his office and interrogated for seven days at a secret detention centre over 42,000 yuan ($8832) of alleged bribes.
"He was kept in room 1118 and all the interrogation was carried out there. He said he had not been allowed to sleep for four days and from the surveillance video they allowed us to see it is very clear that his right eye was bruised and he had difficulty standing," said his wife, Wang Jinping, an economics professor.
Later, Wang was called to Dandong No 1 Hospital. Her husband had broken his coccyx and gone deaf in one ear.
Wang said her husband was not corrupt. She said their family was comfortably off, but hardly rich. "We have a car, a VW Golf, but my university helped pay. We have a 600,000 yuan mortgage on our house."
Guan has been transferred to the courts for a trial in the coming weeks.
Bo Xilai, the former Politburo member and most high-profile victim of the detention system, is awaiting trial at a safe house, according to a source.
In the past decade, hundreds of officials have committed suicide or died while under "shuanggui". In the past four months, three officials have died in suspicious circumstances.