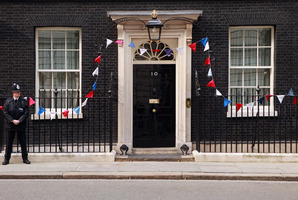 It is an image recognisable around the world - the black door of Number 10 being guarded round the clock by a British bobby.
Now even that reassuring sight has fallen victim to David Cameron's cutbacks.
Downing Street said last night that the door would be left unguarded at weekends, apart from the few occasions each year when Mr Cameron stays in the capital rather than going to his Chequers country retreat.
The move forms part of Chancellor George Osborne's savings drive and is a largely symbolic assertion of his maxim that 'We are all in this together'.
Officials at No 10 insisted that security would not be in any way compromised, because more than a dozen armed policemen always guard each entrance from out of sight of the public.
They point out that the custom is a relic of the time when the street was a public thoroughfare and tourists could wander up to pose for a picture beside the policeman.
When Margaret Thatcher had gates erected at the end of the street to protect against the IRA, the tradition was maintained.
One of the bobby's customary duties is to tap on the door so visitors can enter.
In practice, however, CCTV has long allowed staff inside to monitor anyone approaching.
- Mail On Sunday