Secret recordings capture bosses boasting of huge profits from overcharging Britain's health service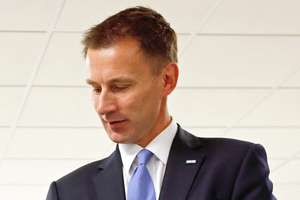 Drug company bosses have been secretly recorded boasting that they are selling regulated prescription drugs that cost "pennies" for hundreds of pounds.
The revelations could have consequences around the world.
A sting by Britain's Daily Telegraph has prompted a fraud investigation by Health Secretary Jeremy Hunt after one drug company executive was taped saying it was a "hallelujah" moment when the National Health Service said in 2011 how much it was prepared to pay for common prescription drugs - a price cap the drug firms appear to have rorted.
Undercover reporters, posing as people looking to buy local chemist shops, found companies claiming full price off the Government, but selling the drugs at a substantial discount to main street chemists - so both would maximise profits.
For example, the NHS would agree to pay £100 ($198) for a drug that would be supplied to a chemist for £30.
A sales executive for drug supply company Temag, Zaheer Mushtaq, told reporters: "I'd be quite happy to agree to the 70 per cent discount." Later he added: "There's a lot of flexibility over prices."
A second company said it offered an average discount of 57 per cent.
When a reporter asked how the Government set the drug tariff, a third sales executive said the products were made for "pennies", so when they set the limit at "£100 there, £120 there, £75 there, it was hallelujah".
Drug companies around the world often battle state health funding bosses, and the UK revelations are bound to have other countries checking their procedures.
Labour MP Emily Thornberry, the shadow attorney general, has written to the Serious Fraud Office asking it to investigate. He said the allegations could "mean that the NHS has been systematically overcharged hundreds of millions of pounds".
A spokesman for one company said that it was investigating, and "initial enquiries suggest strongly that the issue at stake relates to inappropriate and over-enthusiastic claims made at a sales meeting, rather than actual improper inducements".