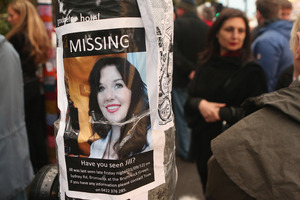 Adrian Bayley murdered Jill Meagher after raping her so as to avoid a lengthy jail term, he told police.
Sentenced yesterday to life for "a crime among the worst kinds conceivable", he will be 76 before he becomes eligible for parole.
For some, even that sentence - stipulating a non-parole period of 35 years - did not adequately reflect the brutality of a crime which shocked Australia. The judge, Geoffrey Nettle, resisted prosecution calls for the 41-year-old from Coburg, Victoria, to be jailed indefinitely, saying he considered Bayley's guilty plea to reflect "a small degree of genuine remorse".
Meagher's father George McKeon, who was in court, with her mother Edith, brother Michael and husband Tom Meagher, said afterwards that the family believed "justice has now been done". He added: "Jill lived a life full of family, friends and her beloved Tom. Jill was brutally raped and murdered, and is never coming back."
The Victorian Supreme Court had heard that Bayley had a history of violent sexual attacks on women dating back 20 years, and was on parole when he snatched 29-year-old Meagher off a street in the Melbourne suburb of Fitzroy last September. The ABC employee, who had been out drinking with colleagues, was walking to her home, five minutes away.
Bayley, who has served two previous jail terms for rape and sexual assault, stood with his head down as Nettle told him: "Your rape and murder of the deceased has had profound, terrible effects on the lives of other people. As your criminal record reveals, you are a recidivist violent sexual offender who has had little compunction about sexual offending when the mood takes you, or about threatening and inflicting violence."
Handing down a life term for what he called one of Victoria's worst murders, and 15 years for a "savage, violent rape of the gravest kind", the judge said he was discounting the sentence because Bayley's guilty plea had spared the family the ordeal of a trial.
The case has been described by politicians and police as a "catastrophic failure of the justice system". Victoria has since changed the law to prevent people who commit offences while on parole from staying out of prison. Bayley, a pipe layer and father of four, was on bail while appealing a sentence for carrying out a violent assault while on parole.
The court heard that Bayley had made an attempt to commit suicide while in custody. The judge said he would have to be kept in isolation for his own safety. As he was driven off to begin his prison term, a female spectator outside court held up a sign stating: "May you rot in there".
What they said
"It was a savage, violent rape of the gravest kind committed upon a woman whom you knew was most certainly not consenting."
- Victorian Supreme Court Justice Geoffrey Nettle
"Jill was brutally raped and murdered and she is never coming back. Justice has now been done."
- Jill Meagher's father George McKeon
"May you rot in there."
- Sign held by protester Sasha Chambers outside the court