Civil suits from showbiz industry alleging phone hacking a blow to Murdoch heartland.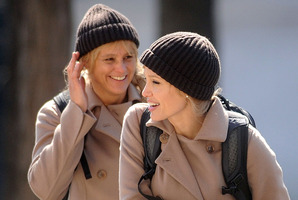 The British former stunt double of Hollywood star Angelina Jolie is the first of six people to formally launch legal proceedings against Rupert Murdoch's media empire in America over alleged phone hacking.
Eunice Huthart, a star of the Gladiators television show who went on to become a stunt specialist in the US, lodged a damages claim in California.
Previous hacking civil actions have been limited to Murdoch's British print businesses, but the first of the new claims has targeted the global company, News Corp, which has its headquarters in New York.
The allegations claim Huthart's mobile phone messages were eavesdropped on to obtain stories published in both the Sun and the News of the World. She was living and working alongside Jolie in Los Angeles when the alleged hacking took place between 2004 and 2005 during the filming of Mr & Mrs Smith, the movie that sparked Jolie's relationship with Brad Pitt.
The lawsuit is a significant blow for Murdoch as his companies try to draw a line under the substantial financial damages from the phone hacking scandal in Britain, which has cost his News Corp at least US$340 million ($424 million).
Although privacy laws in the US acknowledge the right to free speech, the potential of a US court to award punitive damages - hard to obtain in an English court - could see settlements well beyond the British figures.
Huthart's case is understood to be the first of six high-profile cases, linked to the US entertainment industry, which will be lodged directly against News Corp in coming weeks.
Although more financial pain will be unwelcome, damage to reputation will be a major concern for shareholders. News Corp is preparing to hive off its struggling publishing division into a separate company and rename the lucrative entertainment division.
As well as filing for statutory damages under Californian and US laws, Huthart and her New York lawyers are seeking punitive damages against News Corp and its British newspaper subsidiaries News International and News Group Newspapers.
News Corp this week denied claims it is poised to pay a record fine of up to US$850 million to settle a US Department of Justice investigation into claims illegal newsgathering techniques in Britain violated stringent US Foreign Corrupt Practices legislation.
Huthart's claim alleges her "cellular telephone system" was repeatedly accessed by unnamed private investigators and the information passed to unnamed journalists between 2004 and 2005 when she was living in Los Angeles.
Documents filed with the District Court in California claim the hacking coincided with a period when Huthart was sharing a house with Jolie and her personal assistant while they were working on Mr & Mrs Smith.
Her claim states Huthart was told by Scotland Yard her phone had been hacked while she was back home in Britain, before adding, "[Huthart's] cellular phone was also surreptitiously hacked ... when she lived and worked in Los Angeles in 2004 and 2005, at which times she did not receive voicemail messages from, among others, her daughter, her husband and Ms Jolie. She was unaware of these illegal activities and had no reasonable opportunity to become aware of them."
A London spokeswoman said News Corp had no comment on the US court action.
Eunice Huthart
The 46-year-old Liverpudlian stunt worker began her journey to Hollywood in 1994 when she appeared as a contestant on ITV's Gladiators and won the series, later joining the show as a professional. She then transferred her talents into stunt work, appearing in the James Bond film GoldenEye before heading to America, where her film credits include Titanic and the Tomb Raider series, which also starred Angelina Jolie. She worked with Jolie on Mr and Mrs Smith, Wanted and Salt.
- Independent