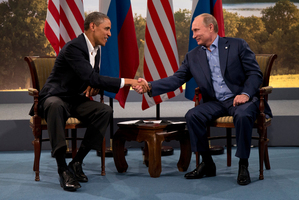 British Prime Minister David Cameron has made an attempt to bounce Russia into supporting a future for Syria without President Bashar al-Assad.
The host of the G8 summit lined up the support of the six other members for a five-point plan to underpin a second round of peace talks on Syria in Geneva. At a dinner at the G8 summit at Lough Erne, Northern Ireland, he challenged Russia's Vladimir Putin to join the rest of the eight-member club or face isolation. "It is a clarifying moment," said a British source.
Cameron hopes his five principles will be reflected in the G8's communique today - with or without Russian support. He made it clear yesterday that the other seven members could issue their own statement on Syria, formally isolating Putin.
Despite lining up on different sides in the bloody civil war, Cameron believes there is some common ground with Russia. His principles are:
A transitional government with executive authority in Syria, which means without President Assad
Condemning the use of chemical weapons anywhere in the world
A drive to improve humanitarian relief to the Syrian people and resolve access problems for aid agencies trying to reach them
A pledge to combat extremist groups wherever they operate
Learning lessons from Libya by planning in advance for "day one" of a new Syria.
Cameron hopes to shift the spotlight from war in Syria to peace talks. But there are clear signs Putin was angered by the Obama Administration's decision last week to offer direct military support to the anti-Assad rebels. Russia said it would not permit no-fly zones - one of the possible options - to be imposed over Syria. US President Barack Obama and Putin met for crucial one-to-one talks in the margins of the G8 summit.
Britain was plunged into a diplomatic row following claims that foreign politicians and diplomats were spied upon in London in 2009. The allegations provoked anger in Turkey, Russia and South Africa, whose dignitaries were reportedly targeted.
Meanwhile, Edward Snowden, the US intelligence whistleblower, declared that the US Government will not be able to cover up his revelations about its vast data-collection programme "by jailing or murdering me".
In a defiant question and answer session on the Guardian website, he said: "Truth is coming, and it cannot be stopped."
Snowden described as a "predictable smear" the suggestion that he had supplied - or would do so - intelligence to China or others in exchange for asylum after taking refuge in Hong Kong. "If I were a Chinese spy, why wouldn't I have flown directly into Beijing? ... No. I have had no contact with the Chinese Government."
Obama defended NSA spying programmes as legal. "It is transparent. That's why we set up the [secret] FISA court."
- Telegraph Group Ltd, Independent, AP