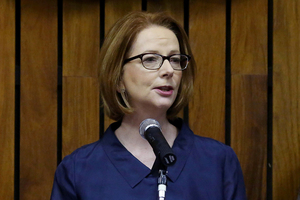 The Australian Parliament continues to sit in a surreal session in which policy still takes second place to a leadership spill that no one claims is happening and in which both key players refuse to take up their gloves.
While Prime Minister Julia Gillard tries to focus attention on her proposed overhaul of the nation's education system it is her future that absorbs Australia.
Kevin Rudd, the leader Gillard ousted three years ago, bobs on a sea of public adulation and polls predicting that his return would restore Labor's fortunes, but only repeats his promise that he will not challenge.
Despite strong public backing from senior ministers, Rudd's supporters claim to have now won a majority of votes in caucus.
But that remains uncertain and - even if true - Rudd's troops appear to be divided between those who want an early showdown and others who accept Rudd's refusal to seek leadership unless he can carry sufficient senior ministers as well as a majority of backbenchers.
With the election looming on September 14, Rudd would act only if there could be a smooth handover that maintained a facade of unity.
Yesterday that seemed as distant as ever.
There was no move on the leadership during a caucus meeting, which avoided seriously undermining the prime minister by deferring a vote on the leader's right to appoint the ministry until after the election.
Gillard has not backed down from her refusal to stand aside, meaning a challenge could only be settled by the bloodbath of a caucus vote either called by her or forced by a petition supported by one-third of Government MPs. Gillard will miss next week's caucus meeting to attend a state memorial service in Sydney for Hazel Hawke, the former wife of Labor icon Bob Hawke.
Rudd backers would now have to organise a petition and a leadership meeting before Parliament rises at the end of next week, its last session before the election.
Even if talk of a coup fizzles and MPs return to campaign in their electorates with Gillard as the still-unchallenged prime minister, the noise of leadership speculation will have drowned policy and Government efforts to regain control of the agenda.
As things stand, Opposition Leader Tony Abbott has to do little but stand aside and grin as Labor hands him government on a platter of its own making.