Australian Parliament a boiling brew of speculation over PM's fate as fear of Labor election defeat drives push for leadership change.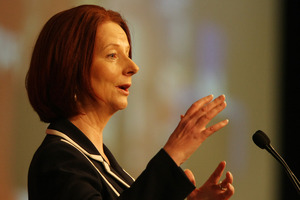 Australia's Parliament resumed yesterday for its final eight days before the September 14 election, with Prime Minister Julia Gillard fending off attacks from within and without.
Behind fierce debate on the floor, Parliament House was a boiling brew of speculation over Gillard's future, the position of senior supporters and the chances of ousted leader Kevin Rudd making a new, last-minute bid for power.
Gillard has consistently refused to budge, Rudd has repeatedly rejected another challenge, and even Rudd's supporters appear uncertain about the path they should take.
Central to whatever might develop will be Workplace Relations Minister Bill Shorten, a key Gillard ally whose continued support remains vital to the Prime Minister.
Rudd would require Shorten's defection, and those of other senior ministers, before he would consider moving against Gillard.
In the unpredictably volatile atmosphere of a Government facing an almost certain landslide defeat, the smell of fear is driving an uncertain number of MPs to back a change in leadership, and an equally desperate defence by Gillard supporters hoping to prevent Labor from shredding itself to pieces.
There is no clear consensus on what will happen in the next two weeks, even with many MPs accepting polls predicting a sharp upturn in support if Rudd toppled Gillard.
A Galaxy poll in News Ltd papers at the weekend forecast a six-point increase in primary support under Rudd, placing the Government within reach of the Opposition.
A Nielsen poll in Fairfax newspapers yesterday said much the same, after finding that Labor was now trailing the Coalition by 14 points in the two-party preferred vote that determines Australian elections.
But the polls appear almost as clouded as the corridors of Parliament House.
Galaxy said although voters preferred Rudd, they did not want to see a change in leadership: more than half said Gillard should stand her ground.
And Nielsen's chief pollster, John Stirton, told ABC radio that the forecast lift in the Government's support if Rudd ousted Gillard was "the magical scenario and a best case for Labor", because it assumed that any transition to Rudd would be perfectly smooth.
"It assumes that the party would then unite behind him and it assumes that he would have a honeymoon through to election day, and I think all three assumptions are quite optimistic," he said.
"I doubt he would do as well as these hypothetical polls that we've been doing [suggest]."
Rudd supporters do not have a clear, single position at this stage, and despite two backbenchers publicly calling for her to go, Gillard has the continued support of senior ministers.
These include Treasurer Wayne Swan and School Education Minister Peter Garrett - who have said they would not serve in a Rudd Cabinet - Trade Minister Craig Emerson and Resources and Energy Minister Gary Gray.
While the Greens would prefer Rudd, key independent Tony Windsor has repeated that if Gillard were ousted, his deal that has played a crucial role in keeping Labor in power would no longer be valid.