British Prime Minister to push Russia's Putin and other leaders at G8 summit to take action against 'brutal' Assad regime in civil war.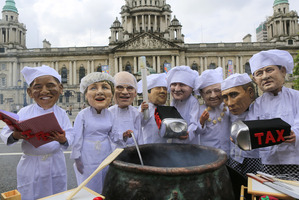 The British Government has been battered by claims over spying and Syria as the G8 summit begins in Northern Ireland.
The Guardian reported that an intensive spying operation was mounted by Britain's secret intelligence agencies on foreign politicians attending G20 summit meetings in London in 2009.
Leaked documents show that delegates had their computers monitored and phones intercepted by GCHQ on the orders of the British Government. The intelligence agencies were said to have set up internet cafes specifically to enable them to read the emails of those taking part in the summit.
Traditionally friendly powers such as South Africa and Turkey were among the countries understood to have been targeted.
It is reported that the documents suggested the operation was sanctioned at a senior level in the government of then Prime Minister Gordon Brown and that the intelligence was passed to ministers.
Details of the surveillance are said to be contained in documents obtained by Edward Snowden, the US National Security Agency whistleblower.
During the course of the two summits in April and September 2009, GCHQ deployed what one document said were "ground-breaking intelligence capabilities" to monitor the communications of the visiting delegation.
They were said to have enabled a team of 45 analysts to be provided with round-the-clock summaries of who was phoning whom.
The methods used included penetrating security of delegates' BlackBerrys in order to monitor their emails and phone calls.
Internet cafes were set up by GCHQ and MI6 that were able to "extract key logging info" for delegates, providing the agencies with "sustained intelligence options against them" even after the summits were over.
British intelligence also received reports relating to an NSA attempt to listen in on the phone calls of the Russian leader Dmitri Medvedev as they passed through the satellite links to Moscow.
The disclosures are potentially embarrassing for Prime Minister David Cameron as he welcomes leaders to the G8 summit at Lough Erne near Enniskillen.
And yesterday Cameron's hopes for the summit were dealt another blow when the Russian President, Vladimir Putin, rounded on Britain, accusing Cameron of betraying humanitarian values by supporting Syrian rebels with "blood on their hands".
Putin accused the UK and other Western powers of attempting to arm rebels who "kill their enemies and eat their organs". He insisted that Russia would continue to arm what he said was the recognised "legitimate government" in Syria and called on other countries to respect the same rules.
Putin's comments suggest that earlier British hopes of a softening of Russia's position on Syria were misplaced. After around an hour of bilateral talks with Cameron in Downing St, Putin's spokesman said the two sides remained as far apart as ever.
"There are very serious disagreements in terms of who is guilty and who is to blame," he said. Asked what the impact of the American decision to arm Syrian rebels would be on potential peace talks, he added: "It makes it harder."
In a press conference after the talks, Cameron admitted that "President Putin and I have our disagreements on some of the issues", but insisted the G8 could bring "new momentum and leadership" to start negotiations in Syria.
But when Putin was asked by British journalists about comments by Cameron last year - that those supporting Assad had the blood of Syrian children on their hands - he reacted angrily. He said: "One does not need to support people who not only kill their enemies, but open up their bodies, eat their intestines in front of the public and cameras. Are these the people you want to support?"
Putin was referring to video footage on the internet of one rebel fighter eating what appeared to be the heart of a government soldier.
Cameron appears increasingly isolated domestically over his enthusiasm for greater British involvement in Syria.
At least five Cabinet ministers have expressed their private opposition to the plan, while a significant number of Conservative and Liberal Democrat MPs have indicated that they would be prepared to vote against the Government if it is put to a vote in the House of Commons.
London Mayor Boris Johnson, writing in the Daily Telegraph, described the Syrian war as a conflict that could not be won.
"Perhaps if we had piled in with the rebels at the beginning, it might have been possible to topple Bashar al-Assad and his nightmare regime. Perhaps we could have installed some sort of pluralist and democratic government, before the Syrian opposition became contaminated with jihadis.
"You only have to raise that option to see that it was never on the cards - not after Iraq. We know what happens when you topple the regime of a Ba'athist strongman. You expose the fault lines of a state that was invented, in 1916, by the British colonial office, and you unleash an unbearable cycle of sectarian violence ... So we sat back, without a strategy, hoping vaguely for the best - and now we have the worst of all worlds."
He added: "Surely to goodness it is time to recognise that no one can win this conflict, because it has become at least partly a religious conflict, between Sunni and Shia ... This is not the moment to send more arms. This is the moment for a total ceasefire, an end to the madness. It is time for the US, Russia, the EU, Turkey, Iran, Saudi and all the players to convene an intergovernmental conference to try to halt the carnage. We can't use Syria as an arena for geopolitical point-scoring or muscle-flexing, and we won't get a ceasefire by pressing weapons into the hands of maniacs."
- Independent, Telegraph Group Ltd
Agenda and security
When
Today and tomorrow.
Where
Lough Erne golf resort, Enniskillen, Northern Ireland.
Who
The host, British Prime Minister David Cameron, is being joined by the leaders of the United States, Russia, France, Germany, Italy, Canada and Japan.
Agenda
Syria's civil war, promoting freer trade between Europe and North America, and combating global tax evasion.
Police
About 7000. Police have formed a security perimeter around the resort that includes several kilometres of coiled razor wire and boat-based police units. Three surveillance drones will be used to keep tabs on protest marches and security.
Protesters
Police commanders said they expected only 2000 protesters would travel to the remote lakeside area for this morning's main planned demonstration.
- AP