Turkish leader's meeting with select group leaves original protesters unrepentant.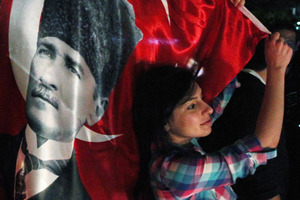 Turkey's Prime Minister made a belated attempt to defuse the mass demonstrations against his rule, sitting down for peace talks with protesters he had previously branded "riff-raff".
The Government announced that it was open to holding a referendum on the redevelopment plan for Istanbul's central Taksim Square that has underpinned nearly two weeks of mass protests.
In an attempt to negotiate a solution, Recep Tayyip Erdogan earlier held discussions with 11 organisers of the movement in a closed-door meeting in the capital, Ankara. But the talks were denounced by other protesters still camped in Gezi Park, who accused the Government of cherry-picking the attendees.
The Taksim Platform, which organised the first protests, said it hadn't been invited to the meeting, and would not have attended anyway. "We don't care about that meeting, it doesn't represent us," said Betul Tanbay, one of the protest leaders.
It underlines the difficulties facing Erdogan in meeting the demands of his opponents, a grassroots movement motivated mainly by complaints that his regime is Islamist and authoritarian.
While some might be content if Erdogan rolled back recent controversial measures - such as the tightening of sales on alcohol - others want a change of government altogether.
The meeting came after Turkish riot squads fought running battles with pockets of protesters in Istanbul, having been given orders to clear the huge crowds from Taksim Square.
Yesterday, the square was open to traffic for the first time since trouble began, although hundreds of protesters remained in Gezi Park, scene of the original protests against the development plan.
The Turkish President, Abdullah Gul, who has taken a more conciliatory tone than Erdogan, lent his support to the talks, but also said that the Government was right to take a firm hand with protesters.
"To engage in a dialogue with these people, to hear out what they say is no doubt our duty. Those who employ violence are something different."
Hundreds of lawyers added their voice to the chorus of disapproval against Erdogan, attacking the arrest of about 20 of their colleagues during a demonstration in support of the protesters.
In Brussels, there were warnings the Turkish Government's response would have a bearing on any future chance of joining the European Union.


Tension timeline
• December 2012 Petition by environmental activists against plans to build a commercial complex in Taksim Square.
• May 28, 2013 About 50 activists camp out in Taksim Square.
• May 29 Police try to clear the square, but protesters stand fast.
• May 31-June 1 Police use water cannon and tear gas on protesters. More than 100 people are injured and 60 detained. Tens of thousands join protests in other towns and cities.
• June 2 Prime Minister Recep Tayyip Erdogan gives a defiant televised speech condemning the demonstrators.
• June 4 A 20-year-old protester is killed, hit by a taxi which rammed demonstrators. Three others have died since.
• June 5 Deputy Prime Minister Bulent Arinc calls the police crackdown "wrong and unjust" and offers talks with protesters.
• June 6 Cyber-crime unit of police raid 38 locations and arrest 24 people accused of using Twitter to encourage others to protest.
• June 7 Erdogan addresses crowd of 10,000 supporters, who chant: "We will die for you, Erdogan."
• June 12 Police re-enter Taksim Square and clear it.
- Independent