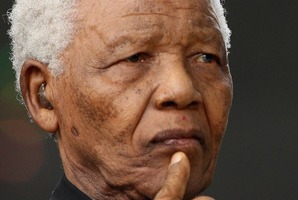 Nelson Mandela is "responding better" to treatment, the South African President said, after a five-day hospital stay for a recurring lung infection.
Mandela, 94, is understood to be conscious and able to recognise and greet his wife, Graca, and other members of his large family who have travelled to his Pretoria bedside in recent days.
"We are very happy with the progress that he is now making, following a difficult last few days," President Jacob Zuma told Parliament.
Referring to Mandela by his clan name, Zuma said: "We appreciate the messages of support from all over the world. It is an honour for us as South Africans to share Madiba with the international community. We are so proud to call him our own."
His announcement, after a series of updates in which Mandela's condition was described only as "serious but stable", was greeted by cheers and applause from MPs.
There has been growing concern among South Africans in the past few days that he may be close to death.
Newspaper editorials have carried headlines such as "After Madiba".
Mbuso Mandela, one of the Nobel Peace laureate's grandsons, said the family were hoping for the best.
"It has been quite intense but we've pulled through and we are still united as a family, that's what's important. We are so thankful to the millions of people who have kept him in their prayers."
He stressed that no one was yet celebrating in the family, as the situation could still change.
The news of Mandela's health improvement came 49 years to the day that he was sentenced to life in prison for sabotage, along with seven other anti-apartheid fighters.