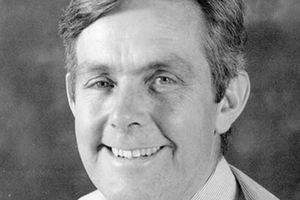 Police are searching farmland in southwestern New South Wales for the answer to a 36-year-old murder mystery linked to the gangland killing of two New Zealand heroin couriers.
Anti-drugs campaigner Donald Mackay, a Griffith furniture merchant and unsuccessful Liberal candidate, vanished from the carpark of a local pub on the night of July 15, 1977, leaving behind his locked minivan, three .22 cartridges and bloodstains.
Although his body has never been found, a mafia hitman, James Frederick Bazley, was convicted of conspiracy to murder. Bazley was also convicted of killing Mr Asia drug syndicate couriers New Zealanders Douglas and Isobel Wilson.
One of the key alleged conspirators was the late crime boss Robert Trimbole, a chief of the Calabrian 'Ndrangheta (Honoured Society), who was involved with both drug-growing operations in Griffith and the Mr Asia syndicate.
No one has even been charged with Mackay's murder.
This week a NSW police task force of Griffith detectives, the unsolved homicide squad and the federal police moved on to two farms on Maude Rd near Hay, about 160km from Griffith.
Acting on a tip, they have renewed the search for Mackay's remains, initially focusing on a well after buying a large supply of shovels from a local hardware store. The search was continuing late yesterday.
The mystery of Mackay's murder has gripped Australia for three decades, involving drug lords, the mafia and contract killers. Last year a reward of A$200,000 ($238,847) was offered for information leading to the discovery of his remains.
It emerged in court that Mackay died because he had been the informant who led police to a A$25 million cannabis crop grown near Griffith by a local cell of the 'Ndrangheta, and to the conviction of four of its members.
The Calabrian syndicate has been operating in Australia for a century, rising to public attention periodically through such crimes as Mackay's murder, the earlier, bloody battle for control of Melbourne's Victoria Market, a massive Ecstasy bust in 2008 and Melbourne's gangland wars, during which the 'Ndrangheta boss Frank Benvenuto was murdered.
The syndicate was infuriated at the loss of the crop and, according to the 1979 Woodward royal commission into drug trafficking, Trimbole was instructed to eliminate Mackay.
The commission found that Trimbole, with five others, conspired to kill Mackay, but all had solid alibis. On the night of the murder Trimbole was dining at a Randwick, Sydney, restaurant; local winegrowers Tony and Domenic Sergi were drinking with police officers; Tony Sergi's brother-in-law Francesco Barbaro was at a Griffith club, and Giuseppe and Rocco Barbaro were out of town.
Another of the Barbaro clan, Savero Barbaro, was among those charged over the Griffith drug crop.
Later, gangland identity turned informer Gianfranco Tizzone admitted he had hired Bazley to kill Mackay. Bazley was convicted in 1986 of conspiring with Tizzone, Trimbole and others to murder the anti-drugs campaigner.
Bazley has never revealed details of the killing or the whereabouts of Mackay's remains.