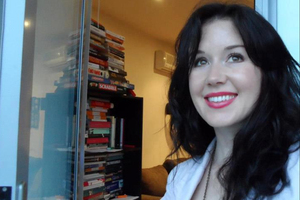 Victorian Premier Denis Napthine has ordered a review into the state's Adult Parole Board after a "catastrophic failure" that cost the life of 29-year-old Jill Meagher last year.
Serial rapist Adrian Bayley, 41, should have been in jail after breaching parole granted after serving eight years on 16 counts of rape.
Instead, on September 21, he snatched Meagher from Sydney Rd in Brunswick as she walked home, hauled her into a lane and brutally raped and killed her.
He later told police he killed in a rage because she fought back and began to call police after he had "tried to do the right thing" by placating her.
Bayley had earlier repeatedly told a prostitute he frequented that he wanted to choke women. Crown prosecutor Gavin Silbert, SC, told the Supreme Court this week that Bayley, 41, was a calculating and manipulating man who derived pleasure from inflicting pain and he killed to avoid life in jail.
After he strangled Meagher he put her body in the boot of his car, drove to Gisborne outside Melbourne, and dumped her by the side of a country road. Bayley then tried to throw police off the track by replacing his boot mat and all four tyres, and began the process of transferring ownership of the car to his girlfriend. But the trip to dump the body was his undoing.
Police used phone records to track Meagher's mobile as Bayley drove to Gisborne via the Tullamarine freeway, and compared it with other phone records. Bayley's phone showed an identical track.
Bayley's home was raided the Thursday after Meagher's disappearance and yielded her mobile. He initially denied any involvement in her disappearance but finally confessed and took police to her body.
In custody, Bayley apologised to Meagher's family without, the court was told, asking for forgiveness. He accepted that he would be sentenced to life in jail.
The court was also told that he had personality disorders and an alcohol problem, and had told psychologist James Ogloff he had been physically abused by his father as a child, and sexually abused by a female relative from age 9 to 15.
Bayley was charged with his first sexual attacks at the age of 18, building a horrific record by the time he was paroled. Despite this, the Parole Board ignored his conviction in February last year for breaking another man's jaw with a king-hit, and allowed him back on the streets.
Changes tightening parole rules came too late for Meagher.
"This young woman spent the last moments of her life being raped in abject terror because someone thought they could rehabilitate a serial rapist," Police Association spokesman Senior Sergeant Greg Davies said.
Sentencing Advisory Council chairman Professor Ari Friberg said the Parole Board had made a "catastrophic error" in releasing Bayley but that recent changes had strengthened the scrutiny of sex and violent offenders on parole.
Bayley will be sentenced on June 19.
Adrian Ernest Bayley
June 7, 1991: Bayley, 19, jailed for five years, with three-year non-parole period, on six charges against three victims, including rape, threat to kill and attempted rape.
February 26, 1993: He gets parole.
April 26, 2002: Bayley is jailed for 11 years, with a minimum of eight, for 16 charges of rape against five victims.
March 17, 2010: He gets parole.
February 2012: Still on parole, he is jailed for three months for recklessly causing serious injury. He appeals against his sentence and is granted appeal bail.
September 22, 2012: He rapes and murders Jill Meagher while still on parole and bail.
- AAP