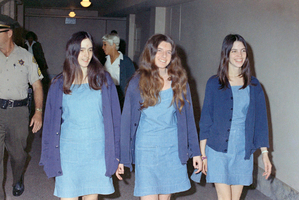 Leslie Van Houten, the youngest member of the murderous 'family', has been in jail for 44 years - since she was 19 As a member of Charles Manson's infamous "Family", Leslie Van Houten took part in perhaps the most notorious killing spree in Californian history.
In the summer of 1969, as Manson sought to spark the race war he believed was imminent, the 19-year-old Van Houten became the youngest of his followers to participate in the Tate-LaBianca murders, which shocked the world and brought the counterculture of the 1960s to a bloody conclusion.
One of the original prosecutors at the subsequent sensational trial said Van Houten was the most likely of those convicted of the crimes to one day be eligible for parole.
Yesterday, 44 years after she was first imprisoned, she again took to the stand, hoping the time had come for her release. Now 63, her hair grey and her face lined, Van Houten faced a parole hearing - her 20th - at the California Institution for Women in Chino.
Explaining her involvement in the brutal killings, she said, "I twisted myself to the point where I thought this had to be done, and I participated ... I did something that is unforgivable, but I can create a world where I make amends ... I'm trying to be someone who lives a life for healing rather than destruction."
The parole board disagreed, and Van Houten was once again denied freedom.
The board decided she could not seek parole again for another five years. Prosecutors claim she was a willing and active participant in the murders of wealthy grocery owners Leno and Rosemary LaBianca in August 1969. They have the support of the victims' families.
Van Houten's lawyer Michael Satris said before the hearing that his client was a "different woman". She has earned two degrees behind bars, and been praised for her work in supporting elderly women inmates.
Manson, who is now 78, has stopped attending parole hearings, saying jail is now his home and he wants to stay there.
- Independent