WikiLeaks accused's lawyers question hacker as court martial enters day two.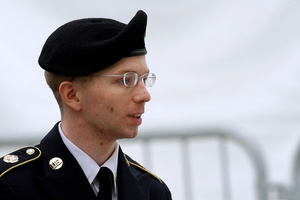 The defence for Bradley Manning, the soldier accused of stealing secrets and sending them to WikiLeaks, sought to score early points at his trial yesterday by pressuring the computer hacker who first turned him in to admit he never got the impression the young man was motivated by hatred for America.
The exchange marked a moment of unexpected drama on just the second day of the court martial under way behind the gates of the Fort Meade Army base.
"At any time, did Private Manning ever say he wanted to help the enemy?" David Coombs, a lawyer for the defence, asked Adrian Lamo. "Not in those words, no," Lamo said.
Lamo, a convicted hacker, said he started chatting online with Manning on May 20, 2010, and alerted law enforcement the next day about the contents of the soldier's messages, including his mention of WikiLeaks founder Julian Assange. Lamo testified that Manning had contacted him because of his notoriety in the hacking community.
Demonstrating that Manning acted maliciously when he sent his trove of classified material to WikiLeaks will be key to the prosecution case.
By contrast, the defence has signalled its intention to show that their client was acting out of a benign, if naive, sense of duty in the hope of alerting Americans to what was being done in their names in the Iraq and Afghanistan wars.
Another prosecution witness, Mark Johnson, a civilian digital-forensic examiner with the US army's computer crimes investigation unit, told the court he had found three items of interest on the defendant's laptop, which was seized after his arrest from his base close to Baghdad in May 2010, including a video and contact information for WikiLeaks.
But when another of Mannings' lawyers, Major Thomas Hurley, asked the witness under cross-examination if he had found anything indicating hatred of America he replied: "No, but we would have noted it. We didn't find it."
The trial is expected to last until the end of August.Independent