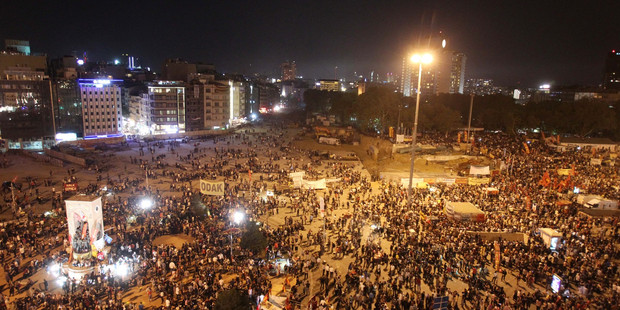 A 22-year-old man died in hospital after being shot during anti-government protests in southern Turkey, as trade unions prepare to strike in support of those on the streets.
Two people have now died during a wave of protests against the Justice and Development Party (AKP) Government in cities across the country.
Hasan Akgol, a main opposition party MP, said Abdullah Comert was a member of the youth branch of the Republican People's Party (CHP).
Earlier, a 20-year-old man was killed when a taxi drove into a group of demonstrators on an Istanbul highway, the first known death related to the demonstrations.
Turkish Prime Minister Recep Tayyip Erdogan yesterday accused the protesters of being "extremists", further inflaming tensions after four days of anti-government demonstrations.
Erdogan branded the hundreds of thousands who have taken to the streets in cities across the country as an "extremist fringe," and "a bunch of looters".
The protests began as a local demonstration against redevelopment in Gezi Park in Istanbul but escalated into an outcry against what is perceived to be Erdogan's authoritarian rule.
"There are those attending these events organised by extremists," the Prime Minister said. "This is not about Gezi Park any more. These are organised events with affiliations both within Turkey and abroad."
In stark contrast to Erdogan, Abdullah Gul, the Turkish President, urged calm and defended protesters' rights to hold peaceful demonstrations.
"If there are different opinions, different situations, different points of view and dissent, there is nothing more natural that being able to voice those differences," he was quoted as saying by the Anatolia news agency.
The two men are expected to compete against each other next year in Turkey's presidential election. Erdogan has been seeking to push through controversial constitutional reforms to increase the power of the presidency, which - after winning three landslide elections - he had seemed well placed to win.
The demonstrations continued throughout yesterday in cities across Turkey. The most intense clashes in Istanbul took place in the early hours of the morning when protesters tried to storm Erdogan's office, only to be repelled by police using tear gas.
Erdogan's suggestion that the demonstrations might have been arranged by foreign elements is reminiscent of the accusations made by the ousted Libyan dictator Colonel Muammar Gaddafi and President Bashar al-Assad of Syria, who both sought to blame foreign interference.
Erdogan angrily rejected comparisons with the Arab Spring uprisings. "We already have a spring in Turkey," he said, alluding to the nation's free elections. "But there are those who want to turn this spring into winter."
The protests have exposed the two sides of Erdogan. On the one hand, the Prime Minister is a consummate politician, a man who has come to dominate his country after 11 years in office.
That Erdogan has been on display, seeking to calm the situation by acknowledging that police made matters worse by their heavy-handed response to the first demonstrations in Istanbul on Saturday. The shrewd Erdogan publicly ordered the police to leave Taksim Square to the protesters. "Be calm," he said, "this will all pass."
But these events have also exposed the prickly, intolerant and emotional side of Erdogan, who runs Turkey's Government as a one-man show.
He was asked whether his Government had understood the "message" of the street protests. Erdogan immediately turned on the unfortunate journalist for having the temerity to pose the question.
"What is the message? I want to hear it from you," he asked. "What can a softened tone be like? Can you tell me?"
- additional reporting AFP