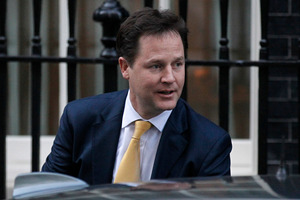 Lobbyists will be regulated and voters will get the power to sack their MPs after the latest sleaze scandal to hit Parliament in Britain.
Following media disclosures about MPs and peers taking money from undercover reporters posing as lobbyists, Deputy Prime Minister Nick Clegg has pledged to bring in laws to create a "cleaner, better politics".
Clegg said the lobbying scandal - which has involved asking questions and influencing debates about Fiji - has again shown that Britain's "political system has long been crying out for head-to-toe reform".
His comments came as a peer, Lord Laird, resigned from the Ulster Unionist Party.
MP Patrick Mercer has already quit the Tory party following an investigation by the Daily Telegraph and BBC's Panorama that revealed he tabled parliamentary questions and motions and offered lobbyists a security pass to the House of Commons after being paid thousands of pounds.
Laird offered to arrange for parliamentary questions to be asked in return for a fee of £2000 ($3821) a month.
Clegg says the Government will now introduce laws to create a statutory register of lobbyists and give constituents the "powers of recall" to force a byelection if an MP engages in serious wrongdoing.
On taking office, the Coalition promised to create a statutory register of lobbyists, to ensure the industry was regulated. Clegg says he and Cameron are "determined that the register should go ahead" as part of a broad package to clean up politics.
Many Liberal Democrats blame Cameron's party for blocking action on lobbying.
A peer embroiled in the growing parliamentary lobbying scandal has resigned from his party.
A separate investigation into lobbying by the Sunday Times has also led to two peers being suspended from the Labour Party over claims they offered to carry out parliamentary work in return for cash. Lord Cunningham, a former Cabinet minister, and Lord Mackenzie, a former senior police officer, are alleged to have told reporters representing a fake solar energy firm they could help push its agenda, in an apparent breach of the strict ban on paid advocacy in Parliament. Cunningham said the report was "misleading" and he was taking legal advice. Mackenzie denied wrongdoing.