A park protest escalates into a national display of anger following a decade of Recep Tayyip Erdogan's Government in power.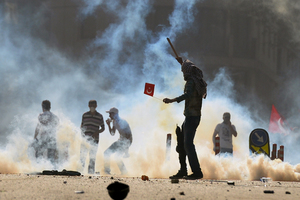 Turkey's Prime Minister, Recep Tayyip Erdogan, was facing the biggest challenge to his 10-year rule after parts of Istanbul turned into a conflict zone.
Violent clashes took place between riot police and tens of thousands of demonstrators outraged at the heavy-handed response of authorities to an environmental protest. Violence spread to 48 cities.
Turkish authorities later removed barricades in Istanbul and allowed thousands of demonstrators into the square in an effort to calm tension. Police eventually withdrew from the city's central Taksim Square. Last night, the protest there appeared to have subsided as rain set in.
The original protest was aimed at saving a city-centre park in Istanbul from shopping centre developers who had been backed by the Government. But it rapidly snowballed into a national display of anger at the perceived arrogance of the country's rulers.
The mass protests against the Government went largely unreported on the main Turkish TV channels and government-supporting newspapers.
Calling for an end to the protests, Erdogan said the Government would press ahead with the shopping centre.
"Police were there yesterday, they'll be on duty today and also tomorrow because Taksim Square cannot be an area where extremists are running wild," Erdogan said. "If this is about staging a protest, about a social movement, I would ... manage to gather 200,000 where they gather 20, and where they gather 100,000, I would gather one million party supporters. Let's not go down that road."
Sirri Sureyya Onder, an MP from the Kurdish Peace and Democracy party (BDP), said: "People are fed up with this lack of public discussion, with the disrespect, the immoderateness, the lawlessness and the authoritarianism of this Government."
The lack of media coverage has further inflamed tension on the streets. "There is a total media blackout on this in Turkey, the Turkish media silent on the protests; they all collaborate with the Government," said Ayse Sarac, 21. "We follow the foreign news coverage to get more information."
Many shop owners, hotels and residents of Istanbul's Beyoglu district yesterday showed solidarity with demonstrators, handing out water and offering shelter to those fleeing the police raids. Volunteer doctors and medical students set up makeshift clinics.
A room in the Istanbul Chamber of Mechanical Engineers was transformed into an impromptu clinic. Up to 15 doctors have been treating victims of teargas attacks and police violence.
Four people permanently lost their eyesight after being hit by gas canisters or plastic bullets, said Huseyin Demirdizen of Turkey's Doctors' Association. He said at least two people injured in the protests were in a life-threatening condition.
"All opposition groups are coming together to protest against this deeply undemocratic Government," said Ramazan Gulen, 31. "We are all here to say enough is enough. For 10 years now this Government has tried to install a dictatorship on the basis that 50 per cent voted for them. For 10 years they have tried to force their views on all of us, completely ignoring the other half of the population."
The protests were not likely to bring down Erdogan's Government, but were more of a warning, said Ahmet Cigdem, a professor of sociology and political science at Ankara's Gazi University. "The people showed that the Government's rule is not guaranteed just because they obtained some 50 per cent of the votes and just because there is no powerful political opposition ... They are saying 'Don't force your political, sociological and cultural impositions on our lives. Don't try to shape my thoughts and my beliefs."
- Observer, AP