Some of America's key defence items compromised but the culprits are not known.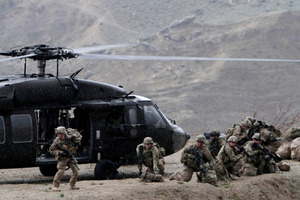 Designs for some of America's most important and sensitive weapons systems have been compromised by Chinese hackers, according to a confidential report.
More than two dozen key weapons systems had been affected, including missile defences, fighter jets, helicopters and navy vessels, the report said.
Among those listed are the advanced Patriot missile system, or PAC-3, the F/A-18 fighter jet, the Black Hawk helicopter and the V-22 Osprey, which is able to land and take off vertically.
It was not clear from the report, extracts of which were published by the Washington Post, when or how the designs had been compromised.
Its authors _ the Defence Science Board, an influential advisory body _ stopped short of accusing the Chinese Government of attempting to steal the information.
But senior military sources pointed the finger directly at Beijing, saying the security breaches were part of a "widening Chinese campaign of espionage against US defence contractors and government agencies".
Mark Stokes, the executive director of the Project 2049 Institute, a think tank that focuses on Asia security issues, described the list of affected systems as staggering.
"These are all very critical weapons systems, critical to our national security. When I hear this in totality, it's breathtaking," he told the newspaper. A senior military official added: "This is billions of dollars of combat advantage for China. They've just saved themselves 25 years of research and development. It's nuts."
China dismissed the report as groundless.
In March, Thomas Donilon, President Barack Obama's security adviser, said cyber-intrusions had reached an unprecedented scale and took the unusual step of publicly calling on Beijing to "take serious steps to investigate" allegations about the hacking of US interests.
On Tuesday, Donilon met Xi Jinping, the Chinese President, in Beijing ahead of a two-day summit between Xi and Obama that will start in California on June 7.
Donilon reportedly told Xi that Obama was "firmly committed to building a relationship defined by higher levels of practical co-operation and greater levels of trust, while managing whatever differences and disagreements might arise between us".
China's state-run media quoted Xi as saying that US-China relations were at a critical juncture. The White House confirmed that cyber security would be on the agenda when the two leaders meet.
Separately, an Australian opposition MP said Chinese hackers stole the blueprints of the country's new spy agency headquarters years ago. "I can say this is a very serious matter; [the Australian Security Intelligence Organisation] has dealt with it."