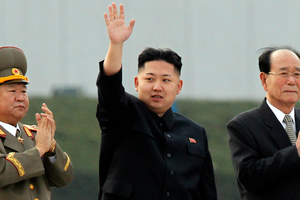 Kim Jong Un has ordered the North Korean military to construct a "world-class" ski resort that will rival the facilities being built in South Korea for the 2018 Winter Olympic Games.
Kim recently visited the Masik Pass Skiing Ground to give "guidance" on the construction of the resort, on more than 110km of mountainside.
No expense is being spared and the resort will have a hotel, cable cars, equipment stores and a heliport, the KCNA state media reported.
"[Kim] mounted an observation deck to hear a detailed report on the construction of the skiing ground," the report said. "He was greatly satisfied to learn that soldier-builders have constructed a skiing area on mountain ranges covering hundreds of thousands of square metres."
The North Korean leader also said it would be "more fantastic" to see the ground covered with snow and ordered the military to speed up construction so the resort is operational from the coming winter.
KCNA quoted Kim as saying that once the resort is completed, "a skiing wave will seize the country".
Kim also ordered the production of skiing equipment and clothing as sanctions imposed by the United Nations in the wake of Pyongyang's nuclear and missile programmes forbid imports of luxury goods.
Kim spent seven years at international schools near the Swiss city of Berne from 1993, where he may have picked up an interest in skiing.
The plans may also have been motivated by the South Korean city of Pyeongchang emerging in 2011 as the host of the 2018 Winter Olympics.