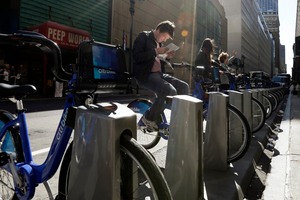 New York's answer to Paris and London's bikes programme has made its official debut, as the city launches its Citi Bike cycle-share scheme.
But while many, including Mayor Michael Bloomberg, are celebrating the rollout, others have been complaining about the docking stations that have sprung up around Manhattan and Brooklyn.
About 6000 bikes have been docked at more than 300 locations around the city as part of the scheme, which is sponsored by Citibank.
More than 9000 people signed up before the launch to take part in the first phase, which is limited to annual members. Those who wish to purchase day passes will get their chance next week.
Along with the thousands who have already paid up, the New Yorker magazine has joined in welcoming the bikes, adorning this week's cover with an illustration of a cycle rack facing a gym window that shows locals working out on exercise bikes.
Many, though, have been irked by the location of the docking stations.
In one instance, the size of a bike stand in front of an upmarket building in the West Village was reduced, with four slots reportedly being removed, after residents filed a lawsuit.
Last week, the New York Post reported on another docking station in the area which, it claimed, made it difficult for emergency crews to park their ambulance to assist a distressed nonagenarian.
Authorities, however, told New York Magazine the crews had no trouble responding to the call. Part of the docking station was removed.
Even before the first US$825 ($1020) bikes hit the streets, someone was reported to have stolen one of the cycles as it was being delivered to Manhattan.
The bikes had not been locked into place when the thief pedalled away into the night.
- Independent