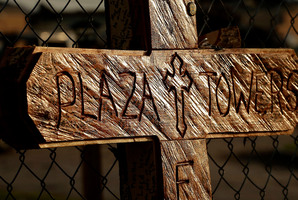 Grim-faced and shaking his head in shock at the scale of the destruction, Barack Obama walked through the tornado-ravaged Oklahoma City suburb of Moore to the ruins of a primary school where seven classmates died.
The United States President's tour of the rubble was the latest stage in the painful process of mourning and recovery for the close-knit community where 24 people were killed, more than 370 were injured and an estimated 12,000 homes damaged or destroyed.
In his now well-rehearsed role as comforter-in-chief after the latest tragedy to strike America, Obama talked to families who lost children, teachers, survivors and emergency responders.
Beside the rubble of the remains of the Plaza Towers elementary school, he praised the teachers who prevented a much higher death toll by shepherding children into corridors and using their bodies to protect them.
Obama pledged that the federal Government would continue to provide financial and logistical support. "We know that Moore is going to come back stronger from this tragedy."
Hundreds of volunteers, with federal and local authorities, are helping home owners with the clean-up.
Mary Fallin, Oklahoma's Republican Governor, previously a relentless critic of government spending and the Obama Administration, thanked the President for his support and emphasised the need for financial backing from the Federal Emergency Management Agency.
In another reminder of how prone the US is to natural disasters, Obama heads to New Jersey next to see the rebuilding process after October's Superstorm Sandy.