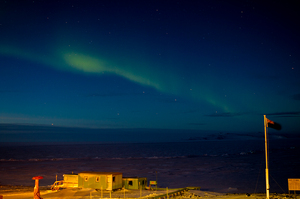 Staff wintering in at Antarctica's Scott Base were left dazzled when the Southern Lights danced upon the darkened skies over the white continent.
The 15-strong team, made up of ten Antarctica New Zealand employees and five Antarctic Heritage Trust Conservators, are likely to see more spectacular Aurora Australis as the winter season progresses.
The lights, captured here by Antarctica New Zealand's Tim Delany, are caused when the Earth's magnetic field interacts with a flow of highly-charged particles from the sun.
As these particles collide with molecules in the atmosphere they release energy which are seen as light.
Base mechanic Lex McKenzie, spending his second winter on ice, said the spectacles were a treat of the season.
"The Aurora's I have seen here are simply amazing, you never know if or when you will see another one due to the extreme weather we can get here over the winter, so when we do see an aurora we always make an effort to watch it and make the most of this special experience."