Second Aussie rules fan's slurs also taped.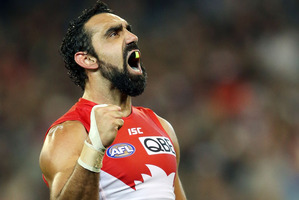 A 13-year-old girl who hurled a racist insult at an Australian Aussie rules player has apologised as details emerged of a similar incident involving a different fan at the same match.
Collingwood fan Julia Surowka abused Sydney Swans star Adam Goodes with only minutes to go in Friday night's Indigenous Round game and was ejected from the Melbourne Cricket Ground after a long grilling by police.
She has since called Goodes, an Aborigine, to apologise and says she will now "think twice" as she did not realise her denigrating comment was a racial slur.
The visibly upset Goodes stormed off the MCG after Julia called him an "ape", leaving the rest of his team to celebrate a 47-point win.
In an open letter to Goodes given to the Sunday Herald Sun, Julia apologised for "being racist".
"Dear Adam, it was good to talk to you on the phone. I'm sorry for being racist. I didn't mean any harm and now I'll think twice before I speak.
From Julia."
Goodes said earlier that he was shattered but did not blame the teen.
"Unfortunately it's what she hears and the environment that she's grown up in that has made her think that it's okay to call people names," he said.
It was revealed yesterday that another Collingwood fan was captured on video yelling racist comments during the same match.
"Give it to Goodes because he is black. Give it to [Lewis] Jetta because he is black. It's Indigenous Round, umpire," the barracker shouted.
- AAP